Valpolicella
I visited Valpolicella with a group of fellow members of the Association of Wine Educators as guests of the Valpolicella Wine Consortium in June 2010.
History
Valpolicella is the local wine of Verona, but wine has been made in the hills above the city throughout the historical period - and probably well before. The twin practices of training vines on pergolas and of making wine from partially dried grapes are both ancient. Although the earliest record of Corvina, the dominant red grape of Valpolicella today, is relatively recent (1824), the region abounds in a variety of robustly flavoured indigenous varieties.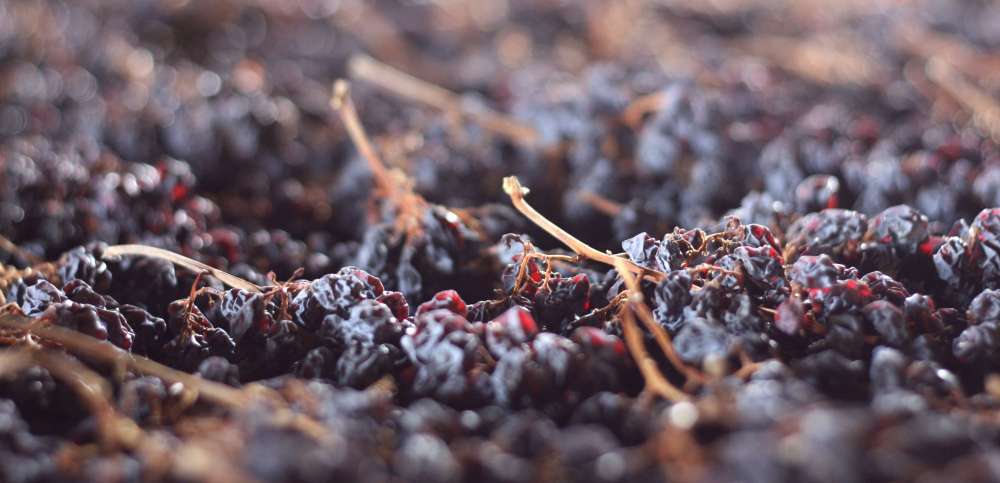 The Conzorzio per la tutela dei vini Valpolicella was founded in 1925, but the first official regulations for production of Valpolicella did not come into force until 1968, with the establishment of a DOC. The years before and following this elevation also witnessed a move from older, high quality hillside sites to extensive new vineyards on the plain, excessive yields and a marked diminution in quality.
The return to quality is linked in part to the commercial development of Amarone, a dry, powerful, sometimes bitter style of wine made from dried grapes. The first, modern Amarone wines were sold in the immediate post-war years, though the Cantina Sociale di Negrar is proud to own a bottle from 1939. The recent popularity of Amarone is such that production rose dramatically in the last decade and an introduction of a new DOCG for Amarone and Recioto styles in 2010 introduced more stringent limits for the proportion of the crop that may be dried.
Geography, Geology and Climate
The five valleys of San Ambrogio, San Pietro in Cariano, Fumane, Marano and Negrar that dominate the western, best and Classico part of the region, to the north of Verona, are often said to resemble the fingers of a hand; but the whole region, extended eastwards to Cazzano di Tramigna resembles more closely an approaching fist, excepting the southwards extension of Valpantena, to the east of the city of Verona. The whole area, in the province of Verona, is bounded to the west and the south by the River Adige and is sheltered to the north by the Monti Lessini. Despite this, wind is the greatest hazard faced by many growers, breaking young branches and preventing full flowering. Altitude is a major factor in determining the character of vineyard sites. This, combined with the cooling winds, allows an often unusually steep diurnal range. Rainfall is generous but often inadequate during the growing season. Many vineyards are equipped with drip irrigation, for emergency use - especially on the plain. Soils are various: the Colli Lessini are granitic, but there are also red calcareous soils, sandstones and alluvial or glacial sand and gravels.
Viticulture and Industry
In 2009 there were 6,300 hectares under vine, equally divided between the DOC Valpolicella in the east and DOC Valpolicella Classico in the west. Hillside sites are defined officially as occupying 46% of the total area. Over 2,600 wine farms are registered, 93% of which hold less than 5 hectares. Co-operatives play a large part in the economy, especially in the east where they are responsible for 70% of the total production. Large independent wineries often buy in grapes.
We visited two large Co-ops, the Cantina Sociale di Negrar, which has 220 members and controls 550 ha.; the immense Cantina Sociale di Soave, which has six wineries, controls 47% of the entire DOC Valpolicella production and also holds land in the Classico and Valpantena zones; four large independent wineries, Bolla, part of the GIV (Italy's largest wine producer with an annual turnover of around €305 million); Bertani (in Valpantena), which includes the largest single vineyard in Valpolicella, the Villa Novani with 70 ha. under vines; Tomassi, whose 95 ha. in the Classico zone make them the largest single landowner there, but also with substantial holdings elsewhere; Tenuta San Antonio (55 ha. owned, but another 50 ha; rented), three medium sized wineries: Nicolis (42 ha.), Tedeschi (42 ha.), Cà La Bionda (29 ha.) and three smaller family wineries, Antonio Mazzi (7 ha.), Scriani (10 ha.), Villa Monteleone (10 ha.).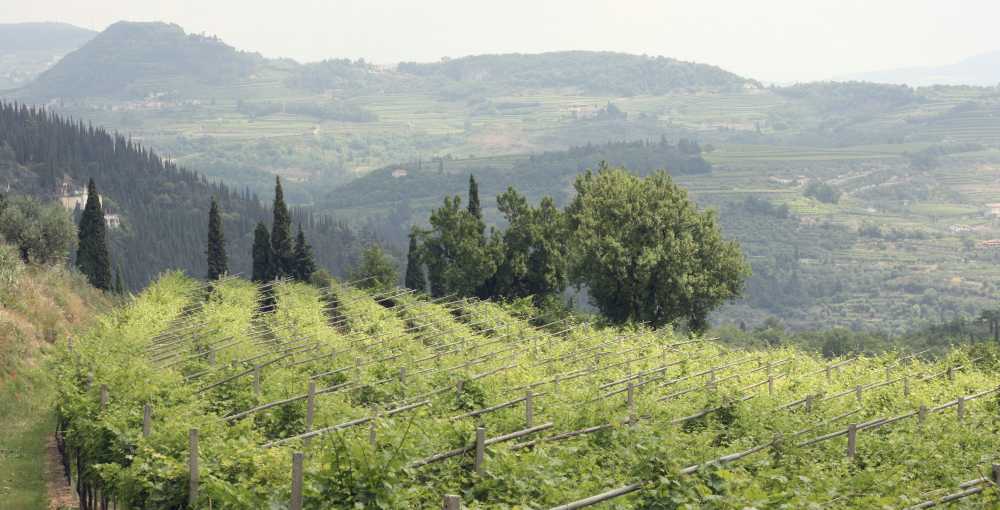 Vines trained on traditional pergolas occupy around 80% of the vineyard, but a variety of other training systems are gaining ground, especially variants on Got. There is much discussion about the relative merits of each system. Richard Tedeschi uses Guyot for most of his new plantings, but is experimenting with other systems including Lyre and a divided canopy system. He argues that for Amarone wines the need is not sugar in grapes as much as 'body' and acidity. Alessandro Castellani, whilst he says that, "personally I love fully ripe grapes" and has thus moved to about 80% Guyot in his vineyards, concurs that the ancient pergolas are well suited to Amarone precisely because the grapes maintain higher acidity and lower sugar levels.
The disadvantage of pergolas is that they have to be maintained almost entirely by hand and they therefore do not allow rapid intervention when disease strikes. Older vineyards typically include a range of varieties jumbled together.
Some claim that most important variety, Corvina is especially well suited to pergola training, but it is sensitive to mildew, oidium and botrytis, all of which are more tricky to treat on such a system. It is vigorous, generous yielding - sometimes too generous, with compact bunches of dark grapes, high in acidity and tannin. The later ripening Corvinone, with its looser bunches and large berries with thicker skins, is even more rustic, but is better suited to drying. Rondinella, a parent of Corvina, is lighter and more perfumed. Molinara, with less colour and structure, is generally excluded from the better wines and may be used instead for rosé. Other local varieties include Cruina, Forselina, Negrara, Oseleta, Castelrotto, Bressa, Corbina, Spigamonte and Turchetta. The new DOCG for Amarone allows up to 15% of international varieties, which seems a shame given the potential and still largely untested wealth of local talent.
Wines and Winemaking
The popularity of Amarone is such that production has risen from around 1.5 million bottles to a little less than 8.8 million in 2009. The requirement of the new DOCG that no more than 65% of the total crop may be dried (the previous limit was 70%) seems too far too generous. As Italian wine expert Michele Shah, who accompanied during the visits, has pointed out, some wines are 'barely recognisable' as Amarone. And although only one winery reeked of volatile acidity (the other eleven were squeaky clean), the number of wines affected by volatile acidity was as disturbingly high as the general quality of winemaking was uneven.
One of the early methods of drying grapes, still illustrated in the visitor centre at Negrar, was to attach the bunches on long strings hung from the ceiling. They are now laid on plastic or, very occasionally, wooden trays. The harvest for Amarone and Recioto grapes takes place, by hand, first, to ensure that each bunch is unaffected in any way by rot or botrytis. The drying process takes place in fruttai, which may be a slow natural process controlled by little more than the opening and shutting of windows to control the flow of air and avoid any humidity. This simple, slow method is practised, so we were told, by no more than 10% of all producers, though most of the wineries we visited claimed to use it. Air conditioned fruttai are used in the majority of wineries; though some, for example Nicolis, aim for a half-way house that involves the opening and closing of windows and the use of fans.
The advantage of an air conditioned facility is that the job is done quickly and efficiently and with far less risk of botrytis. Riccardo Tedeschi believes that, "it gives more expression to the origin of the grapes. The original aromas come out more easily. We see this from one year to another." However, exponents of the traditional, slower drying method are quick to point out that it enables the metabolisation of the acids in the grapes to take place gradually and also the polymerisation of tannins, so that the wine seems less powerfully astringent and the level of malic acid is dramatically reduced. "If you dry the grapes naturally, the malic is zero," says Alessandro Castellani. "If you dry them by machine, it is doubled." Castellani still insists on placing his grapes in wooden trays, because, he says, they absorb humidity better and plastic crates "provoke condensation." Other winemakers believe that wooden trays may harbour disease.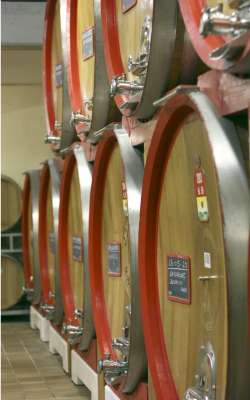 There are similarly passionate arguments between the wine makers of Valpolicella about the appropriateness of ambient and cultured yeasts and about the best kind of cask to age the top wines. Some rely on the large, traditional botti - even some made from cherry wood; others use small new oak barricas; others prefer older barricas; some use 450 litre double barricas; but the finished wine does not always reveal its handling as easily as one might imagine. The most bizarre container about to come into use is Tommasi's 'Magnifica', endorsed by The Guinness Book of Records as the largest wooden wine cask in the world, crafted from Slavonian, Black Forest and French oak. Pierangelo Tomassi readily admits that it is something of a marketing gimmick, "almost a joke". What effect it will have on the 2007 Amarone with which it will soon be filled is anyone's guess.
Despite the arrival of the DOCG, the ten members of the 'Family of Amarone Producers', which includes four of the larger wineries we visited, have joined forces to impose slightly stricter conditions on the production of Amarone and to cooperate in marketing their wine. One of these is Tomassi.
Basic Valpolicella has been the both the mainstay of the region and also its weakest link. Olga Bussinello of the Valpolicella Consortium hopes that standards will improve and that wines made from fresh grapes will gain greater recognition in the market. On the evidence of our tastings, I was struck by both the inconsistency of these 'ordinary' wines and the considerable potential they offer. The best are superb, for example Tenuta San Antonio's 'La Bandina' Valpolicella Superiore 2006 or Cà La Blonda's Valpolicella Classico 2009, which Alessandro Castellani says is "not a great wine and doesn't pretend to be;" but it's beautifully made.
The Amarone we tasted ranged from the barely acceptable (spoiled by volatile acidity and sometime Brettanomyces) to the sublime. A small hint of brett and volatile acidity was not always too great a problem: it added complexity. The longevity of Amarone was demonstrated on several occasions, most notably by Bertani's 1967 Amarone which was perfumed, almost floral, with a touch of caramel and still showed plenty of power and life. Their straight 1953 Valpolicella fared less well.
The problem category is Ripasso. So often sold, as Michele Shah says as 'baby Amarone', it may appeal to some drinkers, especially apparently in Northern Europe, but although there were a few good examples on show, far too many were spoiled by volatility and excessive astringency. Surely this is a style of winemaking that should be now quietly forgotten? There are better ways to make exciting warming reds from fresh grapes alone, or perhaps from those that have had a shorter drying than those destined for Amarone. The very practice of ripasso invites spoilage and excessive levels of astringency.
We tasted many fine examples of Recioto, the original and most exciting style of wine made from dried grapes, and one that is often reasonably priced, as the small queue to buy bottles of Villa Monteleone Recioto, 'Palsun' 2004 showed. Wine Educators do not always part so willingly with their cash. Riccardo Tedeschi says, "I think that Recioto is the best wine of Valpolicella. It has the greatest potential; but it's hard to sell." He paused and shrugged. "It's sweet - and red." I suspect that anyone who tastes it will be hooked instantly.
---
Text & photographs © Helen Savage, 2010