Gaillac at the Crossroads
Gaillac is learning to be different. Its vineyards along the Tarn Valley in South West France were first planted by the Romans and it remains a land of proud traditions as well as of generous people. And it's upon that long tradition that some growers there are daring to build a platform for future success.
The bare statistics show that it produced 11,202 hectolitres of red and rosé wine in 2005 and 69,900 hectolitres of white from a vineyard of 4,189 hectares, but Gaillac is a crossroads in more than one sense. Its splendid climate (apart from when the cold rain in May 2007 poured down just for me) is a unique mix of Atlantic, Mediterranean and Continental influences. Its vignerons can grow grapes suited to all three and make almost every style of wine imaginable, including pétillant (perlé), sparkling, dry and doux (but not liquoureux) whites, rosés, light, primeur summer-drinking reds and others high in tannin and extract that cry out for careful cellaring. It's almost too easy. But that's why they now have to make hard choices and leave others to grow Gamay, Merlot or Sauvignon Blanc. In a fiercely competitive market their future lies in doing what only they can do - and in making the most of their special red varieties Duras and Braucol (sometimes called Fer Servadou) and the local white varieties Loin de l'Oeil and Mauzac. Duras, for example, features in no other appellation. Gaillac wines taste like no others; and the best, almost all from these four grapes, are now beginning to make UK critics sit up and take notice.
But success will not be won easily. Emmanuel Maugeais says that the flavour of Duras and Braucol can be somewhat "rustic", especially when yields are too high. Duras should not exceed 50 hectolitres per hectare. With his wife Sigolène and their five children he took over Domaine de Gineste in 2000. "Only last year," he's honest enough to admit, "do I feel I've mastered how to get the best out of the Duras." Yields are around 40 to 45 hectolitres per hectare, controlled by rigorous pruning - only four to five buds on canes trained to Single Guyot (he also has vines trained on Cordon Royat). Braucol must be allowed to ripen fully or else, he says, it can be unattractively peppery. He is also interested in using another rare cépage - Prunelard, "a cousin of Malbec, which can give structure and complexity to a blend." If all goes to plan it will be planted in 2008 and 2009.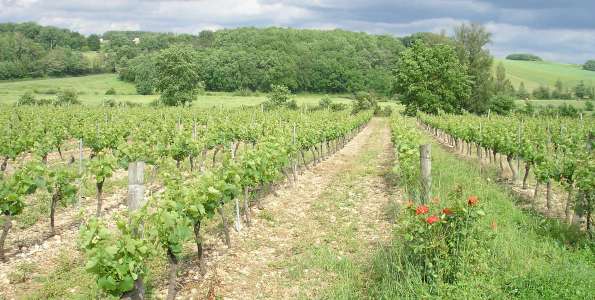 Emmanuel's aim is to transform his estate and to make the best wine possible. One way of achieving this, he believes, is go organic (full conversion is planned for 2008), and biodynamic (a longer-term aim) would be better still. "If you're more natural, the vine will develop natural resistance." And he wants his wine to be nothing but "a pure expression of the ripe grapes." He already adds sulphur in quantities less than that prescribed in most organic regimes and neither acidifies or chaptalises his musts.
What I admire so much about Emmanuel's Cuvée Pourpre, a blend mostly of Duras with a little Syrah, is that it's packed with almost crunchily ripe black fruit, but isn't overblown or headily alcoholic. The same is true of his Grand Cuvée which features mostly Braucol with a little Duras, Merlot and Cabernet Sauvignon. It's lusciously ripe and soft, but isn't over-extracted. Even his superbly concentrated Grand Terroir, his top red, which balances Duras and Braucol follows the same pattern. Part of the secret, Emmanuel insists, is to pick the grapes at exactly the right moment. "As soon as the pips taste ripe you have just six to twelve hours to complete the harvest, otherwise the wine will be heavy and jammy."
The white varieties of Gaillac, Loin de l'Oeil (L'En de l'El in Occitan) and Mauzac are low in acidity and also require careful handling. This has prompted many growers, including Emmanuel to grow Sauvignon Blanc in order to increase acid levels, but he is committed over the next ten years to use only traditional Gaillac varieties. Ondenc, which he may also start planting in 2008, may prove to be a local solution to the acidity problem.
Emmanuel's wines have deservedly attracted considerable critical acclaim, but this is not enough to ensure profitability. He's convinced that a wide and diverse client-base is the key to sustainable success. When he took over the estate, he inherited 53 customers including one who bought half the production; now he has around three thousand clients and has increased direct sales to 50%. 15% of his wine is exported.
Tasting notes for Domaine de Gineste.
Another dynamic family, Olivier and Astrid Bonnafont with their four children also arrived in the region seven years ago. After working in forestry in Sologne and then making cider in Normandy, Olivier decided to return to his roots and bought Domaine Peyres Roses. "I was already in love with wine, but I started here with nothing." The 10 hectare vineyard produced low-quality wine and one of Olivier's first tasks was to grub up 3 hectares of diseased vines (he has retained just one small plot of these to monitor the evolution of a range of vine maladies). His aim is to create a polyculture with truffle oaks, grass, wild flowers and hedges (which also act as wind breaks). Olivier believes that biodiversity recreates a balance for nature. Other vines have been converted back from Guyot training to the traditional gobelet, which, because they draw less water from the soil, present, he says, a more sustainable regime.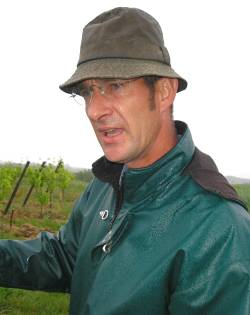 It is already an idyllic place, but life there has been a struggle. In the searing heat and drought of 2003 Olivier had already lost half of his crop when a violent August hailstorm wiped out most of the rest in a matter of minutes. To make ends meet he had to sell his beloved horses with which he'd intended to work the land.
Like Emmanuel, Olivier is passionate about the health of his soil even if it means doing things the hard way. "It may just take an hour to treat the vineyards with a chemical weed-killer, but I'd prefer to take a day with the tractor and plough the soil between the vines."
He grows seven varieties, Mauzac, Loin de L'Oeil and Muscadelle for whites and Braucol, Duras, Syrah and Merlot for his reds. He harvests "when the taste is right" and although he is unimpressed by "technical ripeness", he considers that seed ripeness is highly desirable.
Of all the wines I tasted in Gaillac, I like Olivier's best. They combine deliciously fresh fruit flavours with a rare elegance. They are vivid expressions of 'terroir' but are anything but rustic. His purpose at Peyres Roses is to obtain good fruit and to try to preserve that quality in the finished wine. He uses indigenous ambient yeasts and adds the minimum of sulphur necessary for the wine to travel and to keep safely.
Harvest for dry white wines normally takes place in mid September, but a battle with the birds notwithstanding, Olivier tries to leave three or four bunches on each vine until late October or early November in order to make a late-harvest style. This is rich, but never overly sweet. If Olivier deems the sugar content to be too high he adds a little dry wine in the hope of creating greater complexity in the blend. The bunches are often slightly raisined by the dry Antan wind, but whilst this reduces water in the berries, Olivier insists that the primary flavours and perfumes largely remain.
Tasting notes for the Domaine Peyres Roses.
Bernard Ferret, who has ten hectares of vines at nearby Mauriac, on warm south-east-facing, clay-limestone soils on the 'Premières Côtes', is unusual in the region in experimenting with cuvées of single varietals - Duras, Braucol, Syrah, Mauzac and Loin de l'Oeil. A big, black fruits, utterly typical Syrah reassured me that Bernard's winemaking would bring out the distinctive character of each cépage. Thus Braucol 2004 (harvested from 35 year-old vines at 45 hl/ha) was creamy and chocolatey with a hint of mint, with considerable richness and length. The tannins were ripe and not at all aggressive. A 2001 Braucol from the same plot showed more black fruit both on the nose and on the palate. Duras 2004 was quite chewy but also supple, with ripe jammy fruit and a generous dusting of pepper and spice. Bernard insists that the thick skins of Duras make it a suitable candidate for machine harvesting. Interesting as it was to taste the varietal basis of Gaillac, a 2004 blend (40% each of Duras and Braucol) with 20% Syrah, was better than any of the parts, with a level of complexity and a depth of fruit none of them showed alone.
It's not easy to balance the books in Gaillac. Some growers, like Sébastien Cabal make ends meet by also raising a few sheep and cultivating a few hectares of cereals. Sébastien has even planted a small olive grove. Only 12 of his 22 hectares at the Domaine des Ardurels are down to vines. The story of the estate is typical of many here. In 1972 Sébastien's father left the co-op and for a few years sold all the production in bulk, before bottling his own wine for the first time in the early 1980s. All his sales are local and his main attempt at raising his estate's profile is his sponsorship of a local Rugby League club.
Tasting notes for the Domaine des Ardurels.
The Co-ops of the region are still important. The Cave de Labastide-de-Lévis, founded in 1949, has the highest profile and is capable of achieving some very good things. Its 250 members control 1500 hectares and produce around six million bottles each year, of which 20% are sold 'at the gate' and just 10% are exported. Half the production is AOC and half Vins de Pays - and represent the full range of Gaillac's sub-regions. Grapes come from sites ranging in altitude from 120 to 350 metres which can result in a three week difference in ripening times.
It is sometimes said that the more gravelly, alluvial soils in the south of the region are better suited to red wine production and the higher, clay-limestone hillsides of the north are ideal for white grapes. Most of the growers I have talked to, however, insist that although each soil may provide a wine of a distinct character, the old distinctions cannot easily be sustained (the high quality of Peyres Roses reds and Domaine de Gineste whites are clear examples) and more to the point, perhaps, there is also a considerable economic imperative for each estate to produce a wide enough range of wines to satisfy the demands of a broad range of customers. The Cave de Labastide-de-Lévis is well-equipped, conscious of the need to produce attractively-packaged wines (including Vins de Pays sealed by Stelvin screw-caps) and is prepared to experiment at the top end of the range. They are pleased, for example, by the results obtained by aging some of their best red wines in American oak. But the UK market, despite considerable efforts, remains a stubbornly hard nut to crack.
Tasting notes for the Cave de Labastide-de-Lévis.
Gaillac growers are proud to say that they produce wine in every style except fortified, but the need to offer a full range of red, white, rosé and sparkling wines is more important, perhaps, to local clients than it is to the export market. There it is hard to know whether the name 'Gaillac' is a help (emphasising its distinct local origins) or a hindrance (despite its long history and proud traditions, very few people have heard of Gaillac). The Domaine de Saurs, which through its link to a restaurant chain even sells in Beirut, has found that its sales of its fine Réserve Eliézer have increased three-fold in ten years since the Gaillacois origin of the wine was declared on the back rather than the main, front label.
I cannot help but feel, however, that the growers who can expect sustained success, even on the export market, are those who concentrate not only on quality, but also on emphasising the distinct traditions and styles of Gaillac wines. The future for Gaillac is most probably in the hands of men like Emmanuel Maugeais and Olivier Bonnafont. But it will surely not all be plain sailing.
---
Notes on Gaillac wines tasted in May 2007
I hope that these (just a selection of some of the wines I tasted) will illustrate something of the range of styles and of flavours of Gaillac - successes and near misses.
Château de Terride
Gaillac Perlé 2006

Bottled early so that the malolactic fermentation takes place in the bottle - fresh and clean with rather dry stone-fruit flavours.

Blanc Sec, Fûts de Chêne 2003

From 100% Mauzac - a curious wine - honeyed, dry and long, but rather too oaky.

Rosé 2006

The blend includes Duras, Merlot and Gamay. Fresh and crisp (even a little sharp) with cherry fruit.

Rouge 'des T' 2006

As the punning name suggests, a light wine for summer drinking. Gamay made by carbonic maceration. Light, fruity and simple, but nothing special.

Cuvée Gravettes 2004

A blend of Syrah, Braucol and Merlot. Quite deep, sappy and rich, with good depth of black fruit, especially black cherry.

Fûts de Chêne 2004

Merlot, Syrah, Braucol and Cabernet Sauvignon. Spicy, brambly fruit with considerable length and complexity. (The 2000 showed more undergrowth-like smells, but good ripeness and length.)

Doux 2006

Hand-harvested Loin de L'Oeil (on 10 October). Lovely nose of quince and a palate of considerable finesse and complexity.
Domaine de Gineste
Cuvée Aurore 2006

Blend of Mauzac, Loin de l'Oeil and Sauvignon Blanc. Clean, appley fruit, with a creamy texture and a dry finish.

Grande Cuvée 2003

70% old vines Mauzac with 30% Sauvignon Blanc. Soft, rich, honeyed and complex. Only 4 g/l residual sugar, but the extreme ripeness of the fruit gives the impression of greater sweetness.

Rosé 2004

A blend of five different red varieties. Amazingly lively for such an old wine with crisp, clean, drying, strawberry fruit.

Cuvée Pourpre 2005

70% Duras/ 30% Syrah. Lovely peppery black fruit balanced by crunchy acidity.

Grande Cuvée 2004

Braucol 65%, with Duras, Merlot and Cabernet Sauvignon. Real depth and concentration, lovely and rich, but though quite soft, needs time to open. Oak nicely integrated.

Grand Terroir 2005

Duras/ Braucol/ Syrah. 2000 bottles - first vintage. Very deep with a nose of cocoa, coffee, pepper and black fruit. Huge concentration in the mouth, with loads of acidity and fine-grained tannins.

Cuvée Blonde Doux 2004

Loin de l'Oeil gives a complex, honeyed mouthful with slightly pithy candied lemon.
Cave de Labastide-de-Lévis
Esprit de la Bastide, Perlé 2006

Mauzac, Loin de l'Oeil and Sauvignon Blanc. Fresh, yeasty and appley nose with a clean, dry apple flavour.

Château Labastidié 2004

Spicy, plummy, brambly fruit, with a good acid/tannin balance and some complexity.

Le Grand Sécret 2004

Good concentration of red fruit with oaky vanillin. Develops well in mouth - quite long and fine.

Doux 2004

Mauzac and Loin de L'Oeil harvested by successive tries. Fresh aroma of ripe, perfumed apples and a soft, peach, apricot and pineapple flavour.
Domaine Peyres Roses
About the Domaine Peyres Roses.
Blanc Sec 2005

Mauzac 40%, Loin de l'Oeil 35%, Muscadelle 25%. Lovely fresh grapefruit flavours made more complex by lees aging. God acidity and a long mineral finish.

Vieilles Vignes 2005

Duras 50%, Braucol 35%, Merlot 15%. Very perfumed, creamy and plummy - lovely plummy fruit, with soft tannins. Delicious.

Cuvée Charles 2005

(Old vines, hand-harvested). Aged in oak but fruit dominates - again, very perfumed. Elegant and fine - really opens out in the mouth. Not a blockbuster - just absolutely right!

Doux 2006

Loin de l'Oeil and Muscadelle. Intense perfume of ripe grapefruit with a hint of peach and honey that explodes with flavour in the mouth.

Cuvée Louis, Doux 2004

Mauzac and Loin de l'Oeil, botrytised, harvested late December /early January and oak-aged. Very concentrated and complex with the oak beautifully integrated. Quince (Mauzac), mango, pithy pink grapefruit (Loin de l'Oeil), apricot and peach. A lot going on! 100 g/l residual sugar.
Domaine des Ardurels
About the Domaine des Ardurels.
Blanc Sec 2006

Sauvignon Blanc/Loin de l'Oeil. Fresh, clean and grapefruity. Simple but good.

Rouge 2005

Syrah 80%, Braucol 205. Good, quite chewy cherry, blackberry and blackcurrant fruit - a little spicy.

Fûts de Chêne 2004

Similar blend. Perfumed, chocolatey black fruits with black cherry. Chewy, long and concentrated.

Méthode Gaillacoise 2006 Brut (22 g/l residual sugar)

Lovely fresh sweet apple flavours - a light, essentially summery mouthful.

Doux 2004

100% Muscadelle harvested by successive tries. Lovely apricot and peach flavours with a hint of grapefruit and clean acidity. 87 g/l residual sugar.
---
Text & photographs © Helen Savage, 2007