Generation Riesling
I visited Rheinhessen, Pfalz and Rheingau on 10 to 13 September 2006 as a guest of the German Wine Institute to meet some of the dynamic "Generation Riesling" winegrowers.
The Generation Riesling are passionate about their work, determined to work together and talk quite a lot about having fun. What counts as "fun" we never fully discovered - which is possibly a good thing.
In common with so many high quality producers along the Rhine and Moselle they are committed to dry Riesling. We began with one of the most impressive estates in the Rheinhessen: Weingut Wittmann at Westhofen, where Philipp Wittmann describes his impeccably well-made Estate Riesling Trocken as "the liquid business card of our estate." I warm to Wittmann. Biodynamic (since 2003), but not at all precious about it, his aim is to make wine "that should have the taste of the grape and not anything else." These are no empty words: the most impressive aspect of his range, which includes fine Weisser Burgunder and unusually complex, flavourful Sylvaner is an almost startling purity of fruit.
Wittmann is one of the twenty members of "Message in a Bottle", founded five years ago. All the members, he says are true friends, are committed to making top quality Riesling (and some Sylvaner), to promoting their wine together and, of course, to partying together and having "a lot of fun." He admits that not everyone has the same ideas, but their agreement over the future of German wine making does not seem at all forced. Members, for example, are determined only to name the best vineyard sites on labels in order to "give quality back to the concept of vineyard sites."
Other members of Message in a Bottle that we met and whose wines we tasted were Jochen Dreissigacker, Stefan Winter, Michael Gutzler and Johannes Geil-Bierschenk. All four make fine and sometimes very fine wine. Although the dry Riesling stars, I was again surprised and impressed by a Sylvaner, this time from Dreissigacker, which had great depth of soft, almost honeyed fruit. A yield of 35 hl/ha no doubt helps. Johannes Geil had created a unique mobile tasting room in the back of a trailtrailerr. We squashed in, bumped behind his tractor and headed for the vineyards.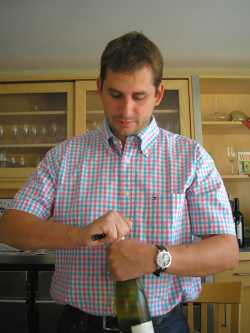 Message in a Bottle is replicated to some extent by "The Young Pfalz" and by the "Südpfalz Connexion". Axel Neiss, the articulate spokesman of The Young Pfalz is happy to acknowledge that the Generation Riesling represent something of a revolution, but like Philipp Wittmann, he insists that the new generation don't wish to turn their backs on their parents' wisdom and knowledge, but to use it as a platform to make even better wine. Neiss knows what he wants and is not unduly impressed by journalists ("they are dangerous - don't go all out to impress them!") He recognises, however, that change was necessary not just for economic reasons but also as a result of global warming. His grandfather would not have ripened Riesling to the extent that is now commonplace in the northern Pfalz (Kindenheim). What he would have made of his grandson's plantings of Cabernet Sauvignon, Merlot, Syrah and Viognier is hard to imagine. Further south, Boris Kranz is even experimenting with Tempranillo. Some sandy soils (notwithstanding the downpours of August 2006) are becoming too dry. Heavier, damper, colder clay limestone soils are coming into their own as sites for Riesling. Drip irrigation is now being installed on the drier soils.
I was not, however, overwhelmed by the quality of the red wines that we tasted. The five friends of the Südpfalz Connexion, for example, recently bought a vineyard together just to make top of the range red and are looking forward to swapping ideas soon with young winemakers across the border in Burgundy. Their joint project Spätburgunder 2004 showed a good depth of spicy red fruit, but like so many Pinot Noirs we tasted was heavily oaked, and despite high alcohol, was marked by quite astringent phenolics. Philipp Wittmann wisely comments, I think, "wood could be your enemy"; but vineyard management and fermentation techniques may also have to change in order to make better reds.
Although Axel Neiss insisted that some claims made about low yields were rather like those made (inversely) by fishermen about the size of their catch, both he and the impressive Jan Eymael of Weingut Pfeffingen at Bad Dürkheim had made changes to their training systems - away from the old potentially over-productive "Pendelbogen" system. Eymael sprays Pinot Noir with gibberellins at flowering, in an attempt to open up the bunches and reduce yield - his Spätburgunder trocken was certainly one of the more successful efforts we tasted.
Our time in the Rheingau was limited to a visit to just two estates, but both stars: Weingut Spreitzer at Oestrich and to Georg Breuer at Rüdesheim. There was, I think, general agreement in our group that these along with Wittmann's Rieslings were the finest wines we tasted during the course of a deeply impressive visit. With, perhaps, Spreitzer's Hattenheimer Wisselbrunnen Riesling Erstes Gewächs, best of all, with its fantastic complexity and superb balance between fruit, minerality and acid.
We were just too early to witness the start of the vintage. Wittmann was due to begin the following week - a little earlier than normal. Hopes were high for classic later ripening varieties, despite a little rot here and there. The September heat helped to make up for a miserable wet August. When I left Rüdesheim for Frankfurt airport it was 30°C and set very fair.
I returned to the southern Pfalz on 17 October to taste visit Volker Gies at his domain, Gies-Düppel in Birkweiler (Volker is one of the Südpfalz Connexion). First impressions were confirmed - a much wider tasting of his range was most impressive.
Harvest finished that afternoon. The promise of mid-September had not been realised fully. Warm damp weather hastened the development of rot, and grapes (as in Alsace to the south) had to be harvested quickly. There will be less late-harvest styles, especially noble sweet wines, than in 2005, but 2006 is far from a disaster. Where there was careful selection in the vineyard some very sound, healthy wines have been made.
---
Text & photographs © Helen Savage, 2006