Along the Duero
The wines of the Duero are concentrated in four D.O. zones: Ribera del Duero, Cigales, Rueda and Toro. The region is typical of central Spain - bleak with harsh winters, torrid summers and little rain. It seems unpromising territory for growing quality grapes, but high altitude (and with it a huge diurnal temperature range that slows the ripening of the grapes to allow them to develop complex flavours and aromas) and clones of Tempranillo well adapted to the local terrain combine to make for some astonishingly fine wines. Oliver Ojikutu (of Spanish Spirit) and I have just returned from a week of tasting in the company of ten wine enthusaists from the north east (the excuse was provided by one of the wine holidays I organise). It was my first visit to the area.
I don't want to go through a tedious catalogue of wines unavailable in the UK, but I warmly recommend the Spanish Spirit website as a source of many goodies from the region, with the wines of Bodegas Liberalia (Toro) and Tamaral (Ribera) the stars.
My overall impression is that it is a hugely promising region, but that some winegrowers still have much to learn.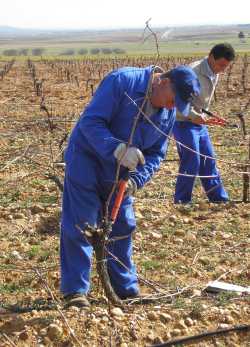 The wines of Toro are big brutes made from Tinta de Toro. It's not remotely like Tempranillo from Rioja or Navarra, but deep coloured, meaty and rather rustic and often has a distinct smell of black olives. In the hands of lesser growers it's clumsy, but when crafted by Juan Antonion Fernandez Martin at Liberalia, espcially the vibrantly fruity 'Cero' which enjoys only a short stay in oak casks, the results are revelatory, with layers of richly ripe black fruit. Elegant no, but hugely appealing. Maybe it benefits from the Bach, Handel and Mozart which its musician winemaker insists on playing to it as it matures. (It seems a silly idea - but then so is much of the hocus pocus that surrounds biodynamic viticulture - and there are more than a few great biodyanmic wines around.)
Ramon Ramos, at Venialbo, also in the D.O. Toro, shows that Señor Martin is not the only winemaker wines to coax great things from Tinta de Toro. Their maverick whites, including semi-sweet Malvasia are also very enjoyable. I'm glad that they also feature large on Oliver's list.
Rueda is the heartland of the delicate white Verdejo grape. It's never going to be the new Chardonnay (or even the new Viognier), but it's spicy dry wine, made simply, is much more interesting than the dull Viura of Rioja. I can't understand why they should want to plant Sauvignon Blanc, Merlot and Pinot Noir here - but they do.
Cigales is rosado territory, Bodegas Frutas Villar is especially good (their reds impressed me too as did those of Valdelosfrailes). The quaint old underground wineries have been superceded by lines of stainless steel, which should at least mean that the lives of a substantial number of workers (and canaries) have been spared. Carbon dioxide does not easily escape through a chimney high in a roof!
Ribera looks like California with modern wineries on the valley floor, but the wisdom of planting so many vines around them is questionable. So are the extraodinary prices now being asked for such vineyard land. I worry that as in Bordeaux today hard times will surely follow, and not a few grape growers will come to regret these years of wide-eyed optimism. It's far wiser stick to the old hillside sites - as the wonderfully subtle fruit of the new wines at Tamaral shows. This is a winery to watch - and wines to snap up before the price rises -as it will. Oliver is already posied to add a few more pounds to each line. Winemakers Francesco Xavier Gallego and Patricia Diaz are a winning team. Look out for any of their wines made after 2001. The 'simple' 2004 'Roble' - again aged only a few months in oak has deep plum and chocolate fruit, but also real finesse.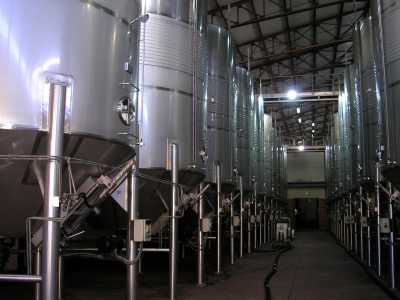 I was not alone in often finding the lesser oaked wines better balanced, and I wonder (as in Navarra and Rioja) if the present fashion for French oak is slightly wrong-headed. Tempranillo and its clones seem ideal partners for the vanilla sweetness of American oak.
The D.O. areas don't have all the goodies. The enterprising co-op of Vina Escuderos, with their spanking new winery shows that very good, if not yet great wines can be made elsewhere (here, to the south of the D.O.Toro). Their Gavion label - white red and rosado. 80-year old vines certainly help (as do even older vines at Ramon Ramos).
Five days was not enough, but before I return I'm going to do my damnest to learn Spanish!
---
Text & photographs © Helen Savage, 2006