Crozes Hermitage
Syrah is grown in almost every wine producing country from Germany to New Zealand, and is Australia's most widely planted black grape, but the one place where its name seldom appears on a label is the northern Rhône, where the stubbornly traditionalist growers prefer the names of historic vineyard sites: Côte-Rôtie, Saint-Joseph, Cornas, Crozes-Hermitage and most famous of all, Hermitage. Crozes-Hermitage is, however, by far the biggest appellation in the region, ten times the size of Hermitage. Almost 1500 hectares, the vineyards spread south and east from Tain l'Hermitage. Unlike the steep slopes of Hermitage, 80% if the vineyard is on relatively flat land and just 20% on hill-slopes. There is a wide range of soils from loess, to clay, sand and alluvial gravels.
Crozes helps to support two co-ops and three large (fine) négociant firms (Chapoutier, Delas Frères and Jaboulet) who buy in grapes to supplement wine from their own vineyards. It also now boasts fifty independent growers.
Not all the wine is red. Roughly one in every dozen bottles produced is white from Marsanne (for power and body) and Roussanne (for, relatively speaking, elegance and finesse). The best white is very good in a soft, rich, rather mineral way, with an elusive scent of acacia honey and peaches. It's a wine to drink with food rather than to enjoy on its own in the garden.
Much the same is true of red Crozes. It seldom has the rich, soft black fruit of Australian Shiraz, nor the complexity and elegance of the more expensive wines of the northern Rhône. It is medium-bodied, not too headily alcoholic and often seems to combine the scent of black cherries with white pepper, backed by juicy acidity and relatively firm, sometimes slightly green tannins. It's popular; almost half (48%) of all Crozes is exported (to around 120 countries) and 40% of that ends up in the UK. The general quality has improved enormously over the last twenty years since the bad old days when Robert Parker rightly complained that much of it resembled bottom of the range Beaujolais - indeed much of it was then vinified by carbonic maceration.
The biggest producer is the superbly-run Cave at Tain l'Hermitage, which is more than willing to craft wine to the specification of each major British supermarket. Typically retailing around £6.99, and while not the finest and certainly nor the most concentrated red Crozes in 2005, this still represents excellent value.
The number of independent growers has risen considerably over the last twenty five years. Even at a time when profit margins can be small and marketing difficult, the relative popularity of Crozes notwithstanding, young growers like Etienne Chomarat still feel it's worthwhile to invest in land and to try to make the best wine possible. Etienne bought seven hectares of vines and fruit trees in 2005. All his vines are Syrah, but he's just begun to plant Marsanne too. The quality of his fruit, which the previous owners sold to the co-op, is first-rate. He admits that such a small estate is barely profitable and he'd love to get his hands on three or four more hectares of vines to be more secure, but the concentration of black fruit in his standard 2005, and a chocolatey, black olive-flavoured special blend from the best fruit is hugely promising.
Franck Faugier's family cut ties with the co-op in 1969 and have twelve hectares of red grapes and one of white, along with a further hectare across the Rhône in St. Joseph. He says that the terroir of his Crozes vineyards at La Roche-de-Glun is better suited to red wines, but a white wine offers him the opportunity "to do something different." In an ideal world he'd like to plant Viognier, but it is not allowed in the appellation. His Domaine des Hauts Chassis wines are impressive - a product of his determination only to try to make wine that expresses the flavour of the fresh fruit as much as possible. He advocates the use of demi-muids (approximately 500 litre casks - twice the size of a standard barrel) to mature Syrah in the northern Rhône, arguing that they offer gentle oxygenation without adding too many oak-derived flavours to the wine. All his wines are packed with flavour, but nothing is over exaggerated. They're perfect companions for fine food. 70% of them are exported, with the Netherlands his largest market.
The Domaine de Fayolle, Fils et Fille at Gervans, owned and managed by brother and sister Laurent and Céline Fayolle, was created in 2002 when their father and uncle divided the family estate that had been established four generations. Their grandfather, a pioneer independent vigneron in the appellation, started to bottle his own wine in 1959. They have inherited a lot of old vines, with an average age of around forty years, most of which are in the commune of Crozes-Hermitage itself and are mainly on hill slopes (they have also bought a plot of vines on very different terroir at Roche-de-Glun). The old vines are planted at a density of 7,500 plants per hectare (most of the appellation is at four to five thousand plants per hectare) and trained, traditionally, en gobelet with just four buds per vine. Laurent Fayolle argues that gobelet training may be more labour-intensive than the more usual trellising now seen in Crozes, but it allows the vines to root more deeply and to have a longer productive life. One of their priorities in the vineyard is to reduce the use of herbicides - once greeted as a miracle by their father in the 1970s. All the wines are aged in cask - the most simple in large tonneau - and like Franck Faugier they favour demi-muids, only using small barriques for the most structured wine. Yields, as high as 70 hl/ha in the 1970s, have been severely reduced and the grapes are now once again vinified in a thoroughly traditional way, with de-stemming and a long cuvaison in open wooden tanks.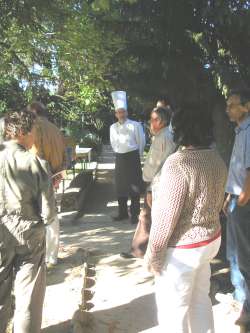 These three estates are examples of the best of Crozes. I visited them when, in late June 2007, a group of members of the Circle of Wine Writers were invited to the area to taste a wide range of wines, both red and white mostly from the 2005 and 2006 vintages.
My overall impression is that the quality of the red wine is more generally more impressive than that of the white. Some of the reds are very good indeed and only in comparison with fine (and far more expensive) examples of Hermitage do they seem to be just a little chunky and rustic. Tannins, even in the good vintages of 2004 to 2006 are mostly firm, but these are not generally speaking wines for long cellaring. Much of their appeal is in their relative robustness and their ability to accompany food well.
The whites sometimes seem clumsy, with low acidity and a lack of fruit. The relatively few well-balanced excitingly-flavoured examples tend to suggest that white winemaking in Crozes is sometimes less sure-footed than that evidenced by the reds. As white wine is but a small part of the production, this is not, perhaps, altogether surprising. The low acidity of Marsanne and Roussanne and the tendency of their musts to oxidize easily also makes the vinification of white Crozes a somewhat unforgiving task. At least they are now very different from the curiously varnish-like oxidized, oak-aged Crozes of previous generations. Those were curious but, to be blunt, horrible. Perhaps some of the new-style Crozes whites will also age better than the young wines suggest. An extraordinarily good 1998 Domaine Pradelle was a great and lovely surprise drunk with a meal at Michel Chabron's fine restaurant at Pont de l'Isère.
After the washout of 2002 and the torrid heat and almost burnt flavours of 2003, the Northern Rhône has enjoyed three superb vintages.
Those wines I have tasted from the difficult, torrid and (by some) highly-praised 2003 vintage (including a few red wines below) have been disappointing. The early harvest (mid August) with its high sugar levels and low acidity was no friend to the white wines of Crozes. The reds fared better, but the fruit quality too often lacks freshness. No such worries characterise the excellent, vivid fruit flavours typical in 2004, 05 and 06, though some of the 2005 whites are a little hard.
Tasting notes
White Crozes Hermitage: 2006
Domaine Roland Betton

Clean, fresh, not too deep - ripe apple on nose; apple and white peach on palate with clean acidity.

Domaine Yann Chave

Light, with a clean, perfumed, acacia nose, with some complexity. Almost a hint of CO2 on the tongue, then a long peach and pear flavour with an attractive hint of minerality.

Domaine Laurent Combier

Aroma toasty pear and peach. Palate soft, dry and heavily oaked.

Domaine Fayolle, Fils et Fille, 'Les Pontaix' (100% Marsanne, 60 year-old vines)

Lovely, rich acacia honey nose, with good freshness in the mouth, considerable minerality and length.

Domaine Habrard

A little one dimensional - and a bit flat, with the heavy aroma of old school glue.

Domaine des Hauts Chassis (50% Marsanne, 50% Roussanne)

Creamy and perfumed with honeysuckle and peach - lovely depth of soft ripe fruit.

Domaine Michelas-Saint Jemms (50% Marsanne, 50% Roussanne)

Fresh, peachy, acacia blossom nose; dry stony very mineral palate.

Domaine Pradelle (98% Marsanne)

Clean, rich, honeyed smell; soft in the mouth and quite mineral.
White Crozes Hermitage: 2005
Domaine Belle, 'Terres Blanches' 2005

Stone fruit on nose. Dry, soft, honeyed palate.

Domaine Les Blancs (Jean-Claude and Nicolas Fayolle)

A hint of honey, but a little short of fruit. Rather heavy and flat. Hard finish.

Delas Frères, 'Les Launes'

Fresh nose, with white peach as well as honey. Some acidity, but essentially soft. A little hard.

Domaine des Entrefaux, 'Les Prends'

Slightly floral nose. Soft acacia honey flavour. Touch of end hardness.

Domaine Mucyn

Big, spicy, honeyed nose. Initially quite clean and citrus on palate. Slightly hard finish.

Domaine des Remizières, Cuvée Christophe

Pale straw-coloured with green tinges. Fat, ripe and spicy with spicy oak and some complexity. Rich, buttery flavour with quite a lot of toasty oak.

Domaine des 7 Chemins

Surprisingly deep - almost a pale gold. Lemony fruit with cheese-rind oak. Fat and oaky.
White Crozes Hermitage: 2004
Maison Paul Jaboulet, Domaine Raymond Roure

Unusually green tinged, followed by a nose with green freshness - green plums. Clean, quite fruity and with much fresher acidity than most.

Domaine Pradelle

Clean, almost a little citrus. A little heavy on the palate.
White Crozes Hermitage: 1998
Domaine Pradelle

A revelation - a lovely fresh floral nose and a palate of stone fruit with clean acidity and no little complexity.
Red Crozes Hermitage: 2006
Domaine Fayolle, Fils et Fille

Vivid young ruby, fresh black cherry fruit with a little white pepper and light tannins.

Domaine Fayolle, Fils et Fille, 'Les Pontaix'

Morello cherries (as in the 05) - lovely fresh fruit in the mouth, with a touch of raspberry. Very elegant and strangely reminiscent of a good Pinot Noir.

Domaine Fayolle, Fils et Fille, Clos e Cornirets (60 year-old vines)

Deeper smell - black fruit with hints of licorice. Concentrated but elegant, big and chewy. Oak not yet integrated, but great promise.

Domaine des Hauts Chassis, 'Esquisse'

Very fresh black cherry fruit with good depth. Aromatic, even floral. Easy to enjoy young.

Domaine Gilles Robin, 'Papillon'

Quite creamy black fruit, soft and approachable.
Red Crozes Hermitage: 2005
Domaine Belle, 'Les Pierrelles'

Quite big and deep with cloves, spice and black fruit. Chewy and well-balanced, rather low acidity and silky tannins.

Domaine Roland Betton

Quite light, fine, with a whiff of white pepper. A bit closed. Some elegance, with ripe, fresh fruit acidity.

Maison Chapoutier 'les Varonniers'

Power combined with freshness. Black cherry, creamy and complex with some spicy oak. Oak needs to integrate a little more, but should be good.

Domaine Yann Chave

A little oaky at the moment, masking spicy, elegant fruit. Peppery fruit in the mouth and spicy.

Domaine Yann Chave, le Rouvre

Big, black and spicy with a soft, rich, long, well-balanced, black cherry fruit.

Domaine Chomarat

Nice, concentration of black fruit with black and white pepper. Not too extracted, good firm tannins.

Domaine Chomarat, 'Les Lièvres'

Incredibly deep. A huge nose of concentrated black fruit with tar and chocolate. A big, black flavour, with black olives and dry, slightly bitter tannins.

Cave des Clairmonts

Deep colour, straightforward black cherry fruit, chewy tannins. A little raw now, but may soften.

Domaine des Clairmonts (organic)

Good depth of slightly jammy black cherry fruit, good structure. Silkier, finer tannins than the previous wine.

Domaine du Colombier Cuvée Gaby (60 year-old vines)

Big, black, deep and concentrated. Quite extracted and powerful. Needs time.

Domaine Laurent Combier

Clean, spicy, smoky black fruit on the nose and good, quite fresh fruit in the mouth. Well balanced.

Domaine Laurent Combier, Clos des Grives

Bigger, more oaky than the previous wine with plenty of spice (cloves). Quite long. Interesting.

Domaine Delas Frères, 'Tour d'Albon'

Lovely bouquet: fresh, minty with raspberry and cherry - very pure fruit. Fresh and light but also elegant and complex.

Domaine Fayolle, Fils et Fille, 'Les Pontaix'

Nice freshness of black cherry fruit both on the nose and in the palate.

Domaine Fayolle, Fils et Fille, Cuvée Sens

Deep and concentrated with the smell and flavour of morello cherry. Fresh and balanced with fine tannins. Another lovely wine.

Domaine Fayolle, Fils et Fille, Clos de Cornirets

Deep - a lovely young ruby. A perfumed nose of cherries in brandy and licorice. Big and chewy, with an imposing acid and tannic structure. Oak nicely integrated. Great promise.

Domaine Habrard

Deep, ripe black cherry, almost a little jammy. Real concentration but also freshness of fruit. Lovely wine.

Domaine des Hauts Chassis (vines over 40 years old)

Big and slightly dusty, earthy and full of black fruit. Loads of fruit in the mouth - more cassis than cherry, with fine tannins.

Domaine Michelas-Saint Jemms

Big, black, creamy and quite concentrated, though a little tart and inky on the palate.

Domaine Michelas-Saint Jemms, Terre d'Arce (Vieilles Vignes)

Fruitier - a nice blend of black cherry and spicy oak and rounder in the mouth, though still a little tart.

Domaine Mucyn

A little stalky on the nose. Quite chunky with black cherry fruit. Not too heavy, but quite firm tannins.

Domaine Pochon

Nice, tight, blackcurrant and black cherry fruit, fresh in the mouth. Not too complex but attractive and well-made.

Domaine Pochon: Château Curson (Old vines - 40 years average)

Deeper, spicier and blacker than the standard cuvée, with chocolate and toasty oak. Quite chewy, with quite a tannic bite. Nice integration fruit of and oak and good length.

Domaine Michel Poinard

Nice, ripe, black cherry jam flavour - soft and generous. Firm tannins at the end.

Domaine Pradelle

A little spicy, but stalky. Rather lean.

Domaine des Remizières, Cuvée Particulière

Deep, with lovely pure fruit - black cherries in alcohol. Loads of fruit on the palate, but quite high acid. Needs to be left for a year or two.

Domaine des Remizières, Cuvée Christophe

Finer and more elegant, with oak well integrated with the fruit and some spicy white pepper. Big and rich in the mouth with bags of life and superb, long, fruity finish.

Domaine Gilles Robin, Cuvée Alberic Bouvet

Very nice. A creamy, smoky, chocolately, spicy nose and a rich chocolate and cherry palate. Quite long.

Domaine des 7 Chemins, 'L'Absolue' (from 50 year-old vines)

Very deep, ripe and spicy, backed by toasty oak. Sweet fruit with plenty of acidity and quite a lot of oak at the finish.

Cave de Tain

Nice, fresh, straightforward fruit - quite raspberry. Rather lacks middle palate.

Cave de Tain, Fine Fleur

Blacker, firmer and quite chewy, more cherry than raspberry and very slightly sour acidity.

Cave de Tain, Les Hauts du Fief

Big, spicy and oaky with concentrated black fruit. Good, chewy and firm, even a little austere - but will improve.
Red Crozes Hermitage: 2004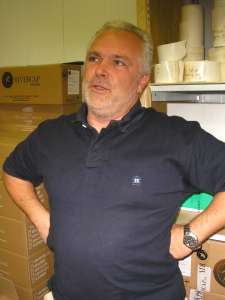 Domaine des Hauts Chassis

Deep, purply, almost black. Lovely, open, pure, ripe black cherry fruit with a little spicy oak. Rich but fresh. Fine-grained tannins. Very good.

Maison Paul Jaboulet, Domaine Raymond Roure

Fine, rich, mineral and complex with layers of black fruit. Long fine tannins.

Domaine Pradelles, Les Hirondelles

Deep coloured. Fresh, quite light black cherry fruit. Nicely-made.
Red Crozes Hermitage: 2003
Domaine Laurent Combier, 'Clos des Grives'

Incredibly deep. Nose a little closed and very black. Palate dominated by creamy black cherry fruit and huge, bitter tannins.

Domaine Delas Frères, 'Les Clos' (picked 20 to 29 August)

Big, rich wine with aromas of crème de cassis and bilberries. Quite fresh acidity. Mineral finish.

Cave de Tain, Les Hauts du Fief

Very deep. A big, almost figgy wine, jammy and baked. Massively fruity with a peppery finish. A monster.
Red Crozes Hermitage: 2001
Domaine Yann Chave, 'Tête de Cuvée'

Real depth. Lovely smoky, leathery, complex black fruits nose with white pepper and a long, similarly black-fruits flavour, also with a dusting of white pepper.
---
Text & photographs © Helen Savage, 2007