Luberon: old and new
I have a special fondness for the Luberon. Two decades ago, and for a succession of long hot summers, we camped in an idyllic spot near Apt overlooking the Grand Luberon itself.
Joan Bunting, a close friend, and the first-ever BBC Masterchef introduced us to this part of Provence and its wines. Back in the mid 1980s we decided to collect samples from every independent Luberon grower and several of the big co-ops. There were no more than a couple of dozen of bottles, which we tasted 'blind'. Although there were some pleasant surprises, most were very ordinary. Under the deep blue Provençal sky almost everything in life seems better, but even that proved powerless to redeem some of the wines we'd bought.
A lot has happened in the last couple of decades. Standards in wine production have risen enormously. There's no longer shelf space for mediocre, dull wines. Even the most lackadaisical southern French co-op has had to brighten up its act.
The wine produced by 'Sylla', the big co-op at Apt, is an excellent example. It makes both AOC Côtes du Luberon and Côtes du Ventoux, as well as a wide range of Vins de Pays. Two hundred members crop around 1,300 hectares of vines. The remarkable hike in standards there almost beggars belief by anyone who remembers their petrol-pump rosé of old - sold on to us by the owner of the campsite for a few Francs per bottle. The only way to 'enjoy' it was to knock it back so cold that any suspicion of flavour had been chilled out of it - not easy when your home was a tent. In late June 2007 I tasted Sylla's current offerings and found every single one a delight. Dry whites in particular were uniformly crisp, fragrant and sometimes excitingly fruity - no mean achievement with the kind of unexceptional white grape varieties traditional to the region.
The other big change is that many more vignerons have decided to leave the co-ops and go it alone. In the late eighties it proved a relatively easy matter to visit all the independent growers and for a very modest sum we bought a bottle or two from each. Today you'd need a week and a large and heavy purse. I'm lucky to have Joan and her husband Adam as guides. They fell so deeply in love with the Luberon that they bought part of a beautiful old Provençal mas near the village of Roussillon where they now live permanently. Every time I visit they point me in the direction of their latest discoveries.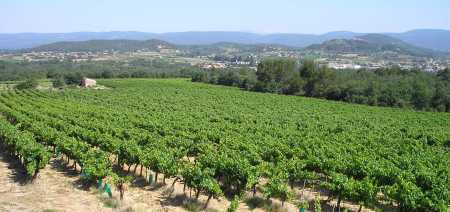 Although prices have risen along with standards, the Luberon is not immune from the problems that have beset wine producers in almost every part of France. Because it's hard to balance the books and there's not much spare cash, marketing suffers. As Jacques, the cellar-master at the excellent Domaine de Mayol explained, "it costs a lot to export wine - time as well as money. We'd love to try and develop our sales in the English market, but we can't." The likely UK retail price would also, he feels, probably end up too high to be competitive. Sales to Germany, however, are healthy. Mayol has 30 hectares of vines and needs to sell almost all that it makes to turn in a profit.
Ventoux and Luberon also suffer something of an identity problem. When they were promoted to AOC standard twenty years ago, the concomitant rise in prices at first prompted a worrying fall in sales, especially of Côtes du Ventoux (promoted first). The cachet of AOC was not sufficient to justify a greater outlay for wines that had little reputation outside their immediate area of production.
The Côtes du Ventoux is over twice the size of the Côtes du Luberon (around 5,900 and 2,700 hectares respectively). By local standards, both are sizeable appellations, and they each draw from a huge tract of land. Fifty one scattered communes produce Ventoux wine and thirty six make up Luberon. Although the Côtes du Luberon AOC is the smaller, it is more problematic in that it unites the cool, north-facing sites on the northern slopes of the massif and the far hotter, drier sites on the south side. The southern wines have much in common with those of the Coteaux D'Aix en Provence, their close neighbours on the other side of broad valley of the Durance, but because they fall in Vaucluse and not Bouches du Rhône, they are lumped together with the often very different wines of the north from which they are separated by several kilometres of forbidding mountain. Proudly Provençal, both Ventoux and Luberon have scrambled a little uncomfortably aboard the Rhône Valley band-wagon in an attempt to market their wines better.
One of the oldest Luberon properties is Château de Mille. According to the winemaker Giles Marmonier, it enjoys a special climate "blessed by the old popes" who built a picture-book pretty summer retreat in the fourteenth century and planted vines. De Mille has 35 hectares of vines. The top red is wine in the old style. Twenty years ago it was our favourite. It now seems strange to modern palates, especially the 1992 aged for half a generation in old wooden casks, some of 4,000 and others of 15,000 litre capacity. But I like it; it's got real character, and despite a very high degree of maderization, it's well worth drinking. It wouldn't win any prize in a show, but it's a good partner for food. Although garnet tinged, it's still deep-coloured and has a lovely old, complex aroma of spice, coffee, chocolate and licorice. Younger reds at de Mille are more structured and chewy. The 2003, with 40% Syrah, 40% Grenache and 20% old Carignan (one of the characteristic ingredients of red de Mille) is rich and complex; the 2000, bottled in 2006 is more spicy with leathery notes beginning to appear, but still has plenty of black fruit flavours. The dry white 2006 (a third each blend of Clairette, Bourboulenc and Roussanne) has not seen wood and has some freshness and acidity to balance a flavour of stone fruits.
Next door, Chateau d'Isolette owned by a different branch of the same Pinatel family makes much more modern-style reds, the best of which are very good indeed. A large vineyard (100 hectares), supported by efficient-looking secretaries in a neat modern office, this business-like operation is still able to satisfy the demands of passing tourists (a German couple filled the boot of their Mercedes with boxes of Isolette while we were waiting to taste). All the wines are well made, including a floral Vin de Pays de Vaucluse Rosé that blends Cabernet with local varieties. The 2003 red 'Sélection', despite its soft tannins, displays a quality of fresh red and black fruit unusual for the year; the 2005 Cuvée Prestige red is smoky and concentrated with chewy fruit and ripe tannins, and the 1999 'Aquarelle', manages to support five to six years in old oak to produce a wine with a soft, rich, Grenache-based, spicy, almost floral nose and a long, fine palate dominated by licorice flavours - a real success.
The Domaine de Mayol also makes wines in a modern, fruity style. Their 2004 red "defines", according to Jacques, "the standard for Mayol". It's a terrific effort, with a fantastic depth of blackcurrant and raspberry fruit. It's mostly a blend of Syrah and Grenache with a little Cinsault - included (as in some top Châteauneuf properties) to help keep alcohol levels down. It's intended for up to five or six years aging and is made without time in oak.
One property that is exported to the UK, the Château de Canorgue has won the approval of international critics, including, significantly, Robert Parker. It is usually reliable, though I found the fruit of the 2003 red a little cooked and raisiny. It is very soft indeed with spicy, peppery black fruit and licorice.
The excess heat of 2003 presented as much of a challenge here as in many other parts of the country. Whether or not the change in climate is due to global warming (Jacques refuses to be convinced), every grower remarks that harvest dates have become steadily earlier over the past twenty years, and the character of the wine has begun to change, loosing the 'freshness' that once differentiated it from wines made in warmer sites in the Rhône Valley and pushing alcohol levels ever higher. Jacques concedes that if the changes persist, the way in which he grows grapes and makes wine may also have to change. But it would not be wise to make wholesale changes. "If we change our blend it might mean that our clients lose confidence in us."
Just across the valley, Château Blanc makes wine from both appellations and shows that the best wines of the Côtes du Ventoux are no longer the kind of 'French country wine' that always seemed better in the stew than as an accompaniment to it. There is little to choose between the Ventoux and Luberon dry whites here. Both feature a similar mix of Clairette, Grenache Blanc and Roussanne, thought the Luberon wine, with 20% Vermentino is less stony and more citrus. Chardonnay and Viognier are grown for Vins de Pays; in the case of the first one wonders quite why. The Viognier, however, is much more interesting, in a spicy, scented, oaky and distinctly alcoholic way - especially the heady 2005 Vieilles Vignes. The 2004 Vendanges d'Automne with 16.5% alcohol is undoubtedly impressive, but just too peppery.
Red wines are best here. Grenache dominates the Côtes du Ventoux blends, and Syrah the Côtes du Luberon. Ventoux wines are aged in tank 'for fruit and lightness', Luberon wines spend time in 225 litre barriques. A Côtes du Ventoux 2003 (80% Grenache, 20% Syrah) with concentrated sweet bitter cherry fruit and a chewy 2004 Côtes du Luberon, with 50% Syrah. Better still is the Côtes du Ventoux 'Cuvée à Mon Père', aged, unusually, in new American oak, with its rich, brambly, damson fruit and also the lovely Côtes du Luberon 'Cuvée Guillaume de Cabestan' 2003 with 70% Syrah - splendidly deep and concentrated with licorice and spice. I prefer it to the 2004 Côtes du Luberon, 'Secret de Famille' - a heady 15% blend of equal proportions of Syrah, Grenache and Mourvèdre, a huge, powerful, spiritous wine, with masses of extracted black fruit. Has it the capacity to develop more complexity if it is aged? I doubt it.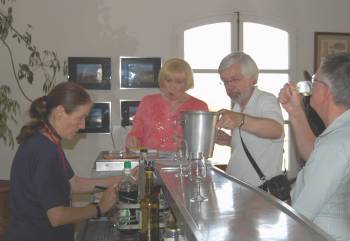 I turned up at Château Blanc without an appointment - and didn't expect to be able to do more than taste a few wines, but the welcome by the well-trained staff was outstanding, warm and attentive - in stark contrast, to my dismay, with that accorded to me by a well-known English vineyard a week or so later. Barbara, who entertained us at Château Blanc for nearly two hours even lent me her file full of technical information, so that I could read it at my leisure. It was enormously helpful, but also, and perhaps even more to the point, a lesson in effective marketing, for how could I not buy wine after such kindness? That nameless English vineyard has much to learn.
The last word needs to be given to a 1989 Domaine de Mayol drunk in August 2007 and just too young to feature in our first Luberon tasting. Jacques told me that it would be long past its best. Not a bit of it. Aged in small oak barrels (unlike the reds now being made at Mayol), and with fruit resembling the cherries in alcohol of a fine Pinot Noir it still had plenty of life and considerable complexity. The last twenty years in the Luberon may have seen huge improvements, but the old wines, when they were well made, delivered a great deal of pleasure.
---
Text & photographs © Helen Savage, 2007