Navarra
When I first visited Navarra in early summer about ten years ago, I was struck by the scale and nature of investment in the vineyards, but more especially in the wineries. In comparison with Rioja, there seemed to be much more sparkling new stainless steel and far fewer old barrels. (Though my perspective was also limited - I didn't see much of what was going on, for example, in the older co-ops.) I was impressed by many of the wines I tasted but sensed that even in some of the best-equipped new bodegas, winemakers were still learning how to use their new equipment effectively. There was also much debate about which grape varieties were best suited to the region.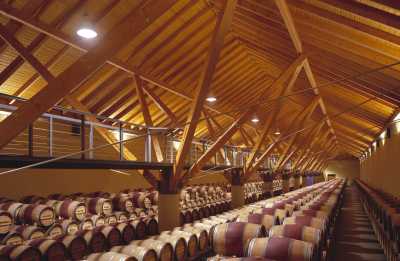 I returned in October 2005 as a guest of the Asociación Bodegas de Navarra - and visited some of the same bodegas and several others. I was aware of a new or growing confidence, a better understanding of what varieties truly worked best (although the love of Cabernet, Merlot and Chardonnay is a mixed marketing blessing) and also of more skilful winemaking. Navarra is, with doubt, a source of excellent, often competitively priced wine.
The top wines are now quite outstanding, with Chivite's superb Collección 125 best of all, but a few wineries seem to be trying just too hard. New oak seems to be everywhere, and in particular, French oak; but its spicy character does not seem as well suited to relatively low acid musts and to Tempranillo as does the sweeter vanillin of the American oak barricas traditionally used in Spain. Some are over-extracted. When over-extraction and the use of aggressive new oak combine, the effect is wearisome. Some of the most enjoyable wines do not taste as if they are out to impress - and fortunately there are plenty to choose from.
There is no doubt in my mind that Tempranillo is at its best in parts of Navarra, and is on a par with some of the better sites of Rioja and Ribera del Duero. Good Tempranillo from Navarra has an elegance and freshness of fruit that is missing from the wines of the arid appellations of central Spain. Cabernet and Merlot can be good too, though a few wines were rather baked and lacked freshness. Chardonnay is very ripe, but generally more interesting than Viura. Garnacha is under-valued as a base for top-quality reds, but its rosado wines are generally very good indeed, though even better if blended with a little Cabernet, Tempranillo or Merlot, all of which may add a welcome lightness and a little more acidity. Navarra can seriously claim to be regarded as one of the world's best sources of pink wine. The very few sweet Muscatels that I tasted were also all superb.
Navarra's problem, which it shares with several other Spanish wine regions, is one of what identity to portray and thus how best to market its produce. Its best-known brands are not household names in the UK - and probably never will be: they cannot compete with the marketing budget of Jacob's Creek or Gallo. Navarra's best reds have a rare finesse, but how are they to be differentiated in the consumer's mind from the many other Tempranillo-based wines in which Spain abounds? There are no clear answers to these questions.
In round figures, Navarra has 18,387 hectares of vines in five subzones (from North to South and East to West: Tierra Estrella, Valdizarbe, Baja Montana, Ribera Media and Ribera Baja). Annual production is around 65 million litres. There are 109 wineries, over 70 of which are co-operatives, many of which are also family-run (for example Nekeas). The climate is semi-continental - largely sheltered from the cool wet influence of the Atlantic and with less rainfall in the South Estate of the region than in the North West. In the North the effect of the nearby Pyrenees helps to increase the diurnal temperature range and thus to extend the growing season, and by so doing, to produce grapes with real flavour.
---
Tasting Notes (listed by bodega) - the majority Durham and Newcastle (Tynemouth), March 2006; and where stated, Skipton April 2006 and Fonsoumagne (France), July/August 2006.
Palacio de la Vega
(Visited): Palacio de la Vega web site
This winery was founded in 1991 and controls around 280 hectares in Tierra Estrella and Ribera Media. It is now owned by Pernod-Ricard. The winemaking is impressive and has recently improved considerably. An un-oaked 2004 Tempranillo, for example, from twenty-year-old vines had wonderful, vivid fruit, balanced by ripe tannins. A 2004 Merlot was also very good indeed. I hope that Oddbins and others who list wines from Palacio de la Vega will continue to stock them: it is a winery to watch.
Chardonnay 2004 (Barrel fermented in new oak. Grapes from 25 year-old vines.)

Some who tasted this in March 2006 found the toasty oak a bit too dominant, but by July 2006 it had evolved considerably, the fruit (ripe melon and fresh pineapple) was much more evident on both the nose and the palate. A soft, rich wine, which still shows toasty oak on the aftertaste, but which has considerable complexity and is very good medium-term drinking.

Rosado 2005 (90% Garnacha, 10% Cabernet Sauvignon)

Good, straightforward strawberry fruit.

Cabernet Sauvignon Reserva 2000 (18 months in barricas of 50% French and 50% American oak)

A deepish ruby which is beginning to show just a little browning. The bouquet is gentle, perfumed, spicy and cedary with plums and ripe blackcurrants, but the fruit is beginning to loose its freshness a little. It is now soft with quite mature fruit, but the firm tannins have not entirely melted. (July 2006)
Bodegas Marco Real
(Visited): Marco Real web page
Marco Real is based in Olite and is a family-owned business, which expanded considerably during the 1990s: 200 hectares of vineyards were bought (in three areas) and a new "boutique" winery was built. The family also has wine-making interests in Toro and in Argentina.
Homenaje Rosado 2005 (100% Garnacha)

Quite full, but soft and fruity - vividly strawberry.

Tinto 2004 Tempranillo/Merlot (also includes a small amount of Cabernet Sauvignon).

Deep and plummy with a lovely plum and bramble smell (respectively characteristic of the grape varieties from which it is blended). With its bags of spicy, ripe, chunky fruit, this offers very good, fairly robust drinking - while it is still young. (July 2006)

Crianza 2001 (65% Tempranillo, 35% Cabernet Sauvignon, aged 12 months in French and American casks.)

Quite deep and still purple-tinged. The aroma is of ripe black and red fruits - blackcurrant, bramble and plum, supported but not at all dominated by spicy oak. In the mouth, it is well-balanced with more ripe fruit and fine-grained tannins - a success.

Crianza Colleccíon Privada 2001 (Tempranillo, Cabernet Sauvignon, Merlot and 10% Graciano.)

A deep ruby, it has a bouquet of black fruits, plums, licorice and a hint of burnt caramel. Big and rich in the mouth, it is chewy and structured with tomato, black olives, and, perhaps, as one taster (April 2006) suggested, pickled walnuts!
Bodega Otazu
(Visited): Bodega Otazu web site
The most northerly winery in Navarra, Otazu has 115 hectares of vines - all replanted since 1991. A great deal of care seems has been lavished on soil analyses, canopy management and on the building an expensive new winery (in 1996). The rest of the site - the nineteenth-century winery and a medieval palace - have also been beautifully restored. The average altitude of the vineyard is 435 metres and the harvest (which is done by night) usually takes place about twelve to fifteen days later than the Navarra average. Only Chardonnay, Tempranillo, Cabernet Sauvignon and Merlot are grown. The annual production is around half a million bottles. The wines are aged only in French (Allier) oak - 1,800 of them, which are kept for up to four years. 35% of the production is exported. The wines are powerful, often intense and impressive, especially the top of the range, Cabernet Sauvignon-dominated Altar. It will be interesting to see how well the fruit and oak marries over time and whether or not the sheer power evident in so many wines here will be matched by elegance.
Crianza 2001 (60% Tempranillo, 20% Merlot, 20% Cabernet Sauvignon, aged 14 months in French oak barrels.)

Deep ruby. Quite perfumed, but with a lot of spicy new oak, raisins, plums and brambles. Big, chewy and structured with ripe fruit, plenty of tannin and an oaky finish.

Reserva 2000 (60% Merlot, 30% Cabernet Sauvignon and 10% Tempranillo, aged 18 months in French oak)

Deep again, with just a little sign of ageing/browning. A rich, ripe smell of brambles and plums and a touch of licorice. Quite big on the palate too, but the fruit is soft and a little lean and the (lingering) finish is dominated by spicy oak. It is very nearly a very fine wine, but somehow just misses the boat. A little more elegance, a little more fruit and a little less oak would make all the difference. (Tasted March, April and July 2006)
Bodegas Nuestra Señora del Camino
Bodegas Nuestra Señora del Camino web site
A co-operative of 170 members founded in 1954 in Ribera Baja. It controls 230 ha of vines.
Conde de Artoiz Rosado 2005 (Garnacha) A little closed, a little hard and a little short on fruit.
Bodegas Irache
Founded in 1891 and linked to a historic monastery on the pilgrimage route to Santiago de Compostela in Tierra Estella. (Irache web site)
Castillo de Irache Rosado 2005 (Garnacha and Tempranillo)

A success - a rosado of considerable delicacy, a pale, almost blue-tinged pink, with a smell and flavour of raspberry, cranberry and redcurrant. Crisp and fresh.
Bodegas San Martin
Another co-op, it has 275 members and was founded in 1914 in Baja Montaña (Bodegas San Martin web page).
Señorio de Unx, Crianza Selección 2001 (Tempranillo aged in oak for 12 months)

A deepish ruby, the nose shows rather earthy dried fruits and quite a lot of oak, but in the mouth it is juicier than expected, albeit in a dry rather lean style.
Bodegas Valcarlos
A modern winery in Tierra Estella, part of the Faustino group (Bodegas Valcarlos web site).
Fortius Rosado 2005 (Tempranillo and Merlot)

Pink with quite a blue tinge to it - almost a pale shade of magenta. A rather 'animal', earthy and red fruits smell, but lots of fruit in the mouth, especially cranberries. It has surprising length.

Fortius Reserva 1999 (Tempranillo and Cabernet Sauvignon, aged 24 months in French (Vosges) and American oak casks

A medium, maturing plummy red, the nose shows a lot of spicy and vanillin oak, which rather masks the fruit. In the mouth it has good structure (fresh acidity), with much more fruit evident - ripe strawberry and plum, and quite a long spicy finish. (July 2006)

Fortius Gran Reserva 1998 (Similar blend and maturation as the Reserva)

This shows not only more depth of colour than the Reserva, but also, curiously, less signs of aging - a deepish, medium ruby. The bouquet has a better integration of fruit and oak - quite a complex blend of strawberry, spice and vanilla. In the mouth it is also finer and longer than the Reserva - a nice drink. (July 2006)
Bodegas Nekeas
(Visited): Nekeas web site
Eight families work together to manage 225 hectares of vines in the Valdizarbe zone in central-northern Navarra - at a considerable altitude range of 250 to 650 metres. Varieties grown include Garnacha, Tempranillo, Cabernet Sauvignon, Merlot Malbec, Syrah, Viura, Chardonnay Moscatel, and Viognier. Some Garnacha is 75 to 100 years old, but much of the vineyard was planted between 1989 and 1992 at a density of 2,500 vines per hectare - on wires for machine harvesting. The impressive winery is also new and includes space for 3,000 barrels. The winemaking is managed with considerable attention to detail and the wines are among the best of the whole region. The average production is 1.3 million bottles.
Rosado 2005 (50% Garnacha, 50% Cabernet)

Lots of attractive, ripe cherry and redcurrant fruit. Dry but juicy.

Chardonnay Cuvée Allier 2004 (Fermented and then aged for 3/4 months in new French oak)

Pale golden straw colour, with a complex, spicy, citrus bouquet. Spicy and rich in the mouth, with toast and more citrus fruit, including a hint of orange. (April 2006)

Crianza 2002 (Tempranillo, Cabernet Sauvignon and Merlot aged 12 months in French oak)

A lovely fleshy smell with lots of tomato and well-integrated spicy oak, then a firm, ripe, lingering, fruity flavour.

Izar de Nekeas 2000 (Cabernet Sauvignon, Merlot and Tempranillo aged 18 months in high-toast French oak casks, 80% new).

Deep, with a big, rich figgy nose - lots of concentrated fruit and similarly impressive in the mouth - chewy and very long. A star in the making?
Bodegas Vega del Castillo
The bodega was founded in 1999 in Olite. It controls around 900 ha of vines. (Vega del Castillo web site)
Rosado de Lagrima 2005 (100% Garnacha)

Vivid pink, tinged with blue, it has a creamy raspberry and strawberry smell and a crisp, exuberantly fruity taste with a long strawberry finish.

Tempranillo 2004 (aged a few months in oak)

Medium-deep ruby, with a nice spicy, plummy smell and a juicy plummy flavour with quite ripe, chewy tannins.

Merlot 2004 (aged 3 months in oak casks)

Much deep and more ruby-coloured, it has a typical Merlot smell of spicy brambles. Chewy, but quite soft and with lots of fruit, this is an enjoyable, uncomplicated wine.
Bodegas Orvalaiz
(Visited - but only for a tasting): Orvalaiz web site.
A co-op of eighty members at Obanos in the Ribera Alta, it owns 400 hectares of vines. There is a marked increase in quality between the varietal wines and the truly impressive Septentrion.
Rosado Cabernet Sauvignon 2005

Tempranillo 2004

Attractively ripe and plummy with some spice.

Cabernet Sauvignon 2004

Slightly green and vegetal but also surprisingly soft. Quite perfumed, but has a slightly sour aftertaste.

Septentrion 2002 (85% Tempranillo, 15% Cabernet Sauvignon aged for 18 months in American oak casks).

A big, rich aroma of coffee, leather and plums and a well-balanced, structured flavour dominated by tomato and black olives. A real success.
Bodegas Ada
Based in Lerga in the Baja Montaña region and formed as recently as December 2003, the bodega owns 40 hectares of sixty year-old Garnacha vines and 40 hectares of other varieties. (Bodegas Ada web site)
Minotauro Azul 2004 (50% Garnacha from sixty-year-old vines, 30% Tempranillo, 10% Cabernet Sauvignon and 10% Merlot, aged three months in new American oak casks)

Deep and purply, it shows lots of fruit on the nose and in the mouth: forest fruits, plums and spice. The fruit/acid/tannin balance is excellent, with real freshness as well as depth.

Minotauro Rojo 2003 (50% old vines Garnacha and 50% Tempranillo, aged 12 months in French and American casks)

Unusually deeply coloured, it has an intense and complex bouquet of blackcurrants, black cherries, strawberry, black olives and spice with bags of rich, ripe fruit in the mouth. Concentrated but not over-extracted, it has considerable style.
Bodegas Chivite
(Visited): Bodegas Chivite web site.
The exquisite new winery near Estella joins two others, including the main operation at Cintruénigo in the Riabera Baj, where most of the wines described below were made. Chivite is the oldest estate in Navarra (it was founded in 1647) and is still family owned. About 500 hectares of vine are owned. Cintruénigo produces around 2 million bottles/year, but the new winery just 30 to 40,000 bottles, including the superb Collección 125 range, the flagship of Navarra and one of the finest expressions of Spanish winemaking.
Gran Feudo Rosado 2005 (Garnacha)

Vivid pink, shading almost to blue at the edge of the glass. Lovely ripe cherry fruit shows on the nose with a hint of melon and pear. The flavour in the mouth closely mirrors the smell - ripe, soft and very fruity.

Gran Feudo Chardonnay 2005

Pale golden straw coloured, it has a bouquet of ripe melon, pineapple and oaky vanillin. The oak is less marked on the palate which is again ripe, quite spicy and with good length. (April 2006)

Gran Feudo Crianza 2003 (70% Tempranillo, 25% Garnacha and 5% Cabernet Sauvignon, aged 12 months in French and American oak)

Quite a deep plummy colour, it has an immediately attractive and fruity smell of cherry, plum and wild herbs with a touch of vanilla. It is medium-weight in the mouth, fleshy and balanced - with just enough astringency and with a flavour close to the nose, but with the addition of tomato. The oak is nicely integrated with the fruit.

Gran Feudo Reserva 2001 (80% Tempranillo with Merlot and Cabernet Sauvignon, aged 18 months in French (Allier) and American oak casks)

Quite deep and still showing little sign of age, it is perfumed with spice and vanilla from the oak, but also with fruit (brambles, black cherries and plums), chocolate and coffee. It is quite full in the mouth, with the fruit supported by fine, ripe tannins. Already a very good drink, it will surely continue to improve a little over a few more years.

Gran Feudo Reserva Viñas Viejas 2000 (Tempranillo from three sites: planted in 1940, 1954 and 1960, plus a little Cabernet Sauvignon, Merlot and Garnacha, aged 18 months in new Allier oak casks)

Even deeper than the Reserva 2001, the nose shoes great complexity with layers of sweetly ripe, almost smoky fruit, which is not overpowered by perfumed, spicy oak. In the mouth there is real elegance, but a slightly dry, spicy, oaky finish. In this case the new French oak seems to work well, but with any less depth of fruit it might seem a little excessive.

Gran Feudo Dulce de Moscatel (Small-berry Muscat)

A delicate, refreshing, orange-scented Muscat, which is gently sweet with good balancing acidity and overtones of ripe grapefruit.

Collección 125 (tasted at the winery October 2005) - a brief note

The 1999 heralded a sea-change in quality. It has great depth of colour and enormous complexity of fruit. The 2000, 2001 and 2002 are all spectacular successes, with masses of elegant black fruit and beautifully managed oak aging. The 2001 is, perhaps, the finest of all and has a great future, although it is already delicious. Samples of wine to be included in the 2004 and 2005 blends were also hugely promising. The 2003 Chardonnay, barrel-fermented and with a partial malo-lactic fermentation is the finest Chardonnay of Spain, in a completely different league from any other produced in Navarra. It combines richness and complexity with an extraordinary candied lemon freshness. The 1997, still fine and elegant, shows that it has a real capacity to age and to develop. The late harvest Moscatel 2003 is botrytised and has great elegance as well as superb depth of fruit. Again, a wonderful 1997 with a superb aroma of botrytis shows that these wines develop great complexity with cellaring.
Bodegas Campos de Enanzo
The largest estate in Navarra, it was founded in 1958 in the Ribera Baja and controls 1,234 ha of vines. (Campos de Enanzo web site).
Remonte Viura 2005

Pale, with a clean, understated, rather stony smell of lemon with a hint of peach, then light, fresh and fairly soft in the mouth, with a mineral finish.

Basiano Rosado 2004

Quite a pretty pink, with an attractive strawberry, cherry and chewing-gum smell - and a crisply fruity taste with a slightly hard finish. A year older than any other rosado in the tasting, it held up well.

Remonte Semicrianza 2002 (Tempranillo)

A medium-deep ruby, it had a rather exotic smell of cherries and plums in brandy, followed by a sweetly ripe taste (cherry sweets and licorice) with very soft tannins, and just enough acidity.

Remonte Crianza 2001(Cabernet Sauvignon)

Medium-deep and still quite young-looking, this has a characteristically Cabernet nose of black fruit with a touch of green leaves, and also as the back label says, a little coffee and vanilla. In the mouth it has something of the Cabernet leanness with slightly green tannins, but is fruity and well-balanced.

Remonte Reserva 1998
Bodega Señorio de Sarria
(Visited): Señorio de Sarria web site
There are now 110 hectares of vines at Señorio de Sarria, but a capacity for many more. It was first planted in 1953 when the winery was built - innovative in its day. Recent investment and new planting have sought to revive the fortunes of the estate which certainly has considerable potential. 1.2 million bottles are now produced each year - well below the capacity of the winery. A wide range of thirteen wines is made.
Rosado 2005 (Garnacha, macerated for 8 to 10 hours and fermented at 17C)

Very pale and pretty, it didn't show too well in March (fermentation smells were still rather evident), but was much better a few weeks later (April 2006) with a smell (still a little shy) of red fruits and a crisp, light, fruity flavour.

Viñedo No 5 Rosado (Garnacha from fifty-year-old vines)

Altogether more interesting, quite a big-boned, powerful rosado with vivid strawberry fruit, but a slightly bitter finish. (April 2006)
Bodegas Ochoa
(Visited): Bodegas Ochoa web site
A family winery founded in 1845. Adrianna has taken over from Javier - the sixth generation of winemakers. 143 hectares of vines produce 900,000 bottles, some of the best wine in Navarra, half of which is exported. The vineyard includes five hectares of Graciano, planted seven years ago, the biggest plot of Graciano in Navarra. All aspects of viticulture and winemaking are carefully monitored - there is even a private weather station in the vineyard and with experimental work on new crossings, Ochoa is right at the cutting edge of the Navarra wine industry.
Rosado de Lagrima 2005 (50% Garnacha and 50% Tempranillo)

Quite a deep pink and in quite a chunky style with lots of very ripe cherry and plum fruit. (March and July 2006)

Tempranillo Crianza 2002 (aged 12 months in oak)

Quite a deep ruby, with a bouquet of ripe plums, tomato, black olives and licorice that continues in the mouth. Well-balanced, quite structured and with good length.

Gran Reserva 1998 (55% Tempranillo, 30 Cabernet Sauvignon and 15% Merlot aged eighteen months in American and French oak casks.)

Medium deep ruby, now with a slight tinge of mahogany. It has an intense, but fine nose dominated by coffee, chocolate and spice, which carries on into the mouth, with a gentle, lingering aftertaste (tasted August 2006). When, however, I tasted it in October 2005 I found more primary fruit (black cherry and blackcurrant) and thought it would still evolve.

Moscatel 2005 (small-berry Muscat)

Utterly delicious, with loads of crunchy Muscat fruit: sweet, scented and irresistible.
---
Text & photographs © Helen Savage, 2006