Bergerac
Bergerac is a confusing wine region. It is surprisingly large - roughly three times bigger than the combined vineyards of the Northern Rhône, but massively overshadowed by Bordeaux, its powerful neighbour to the West, with which it has almost always had an uneasy relationship. Because Bergerac, along with the Côtes de Duras is really a continuation of Bordeaux, separated only by administrative rather than significant geographical boundaries, other wine regions in the greater South West feel that they have little in common with it. The consequence of this is that is stuck in a kind of viticultural limbo.
Its identity crisis was vividly manifested, some years ago now, by a hugely uninspiring marketing campaign, which proclaimed it as "the other great vineyard in Aquitaine"; while the present slogan "Nous les Bergerac!" glosses over an uneasy alliance within Bergerac itself. Bergerac winegrowers, who are quite aware that their generic appellation sets few pulses racing, delight in the sub-appellations in which the region abounds - Pécharmant, Monbazillac, Montravel (with Haut-Montravel and the Côtes de Montravel), Rosette and Saussignac. To be blunt, even a little cruel, which is likely to be the more successful - to try to sell your red wine (if you qualify) under the fairly new AOC dispensation of Montravel, which no one has heard of, or as Bergerac, which no-one rates? (One London merchant told me some years ago, for example, that, no matter how good the wine may actually be, "selling Bergerac wine is about as tough as trying to flog a barrel of lard.") Yet some remarkable wines are made in Bergerac, and sales are picking up, both in volume and value.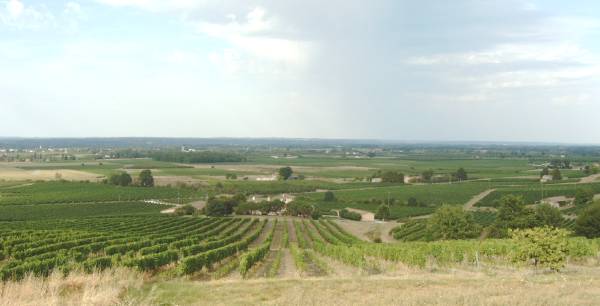 I've followed the fortunes of the region fairly closely for nearly thirty years, and have witnessed the rise and fall of some domains, and a steady, even remarkable, rise in standards. One of the chief glories of Bergerac is its sweet wines. Monbazillac is occasionally touched with real greatness, but I remember one leading producer tell me, as recently as the early 1990s that if the must was too rich in sugar, he would add copious quantities of straw to his press to help it grip the slippery grapes better. Sometimes his wine was sublime, at other times it was a disgrace and should never have been offered for sale.
I remember a conversation with Nick Ryman in 1984 when he slated every single producer of Monbazillac. That same year, I sat down to lunch at Ryman's Château la Jaubertie and tasted dry white wines of such aromatic freshness that I could hardly imagine anything better. His red wines were almost as impressive. Consistently good wine could be made in Bergerac, and some of it might be much better than that. The Ryman revolution, despite the stormy relationship between Nick and his talented winemaker son Hugh, woke Bergerac up. There was now no excuse for dull, thin, flavourless white wines, flat tannic reds and sweet whites packed with cane sugar and copious amounts of sulphur so that thy smelled rather like an unpleasant form of plasticene.
1988 seemed to mark a general turning point, although some of the region's independent producers and co-ops continued to underachieve long after that. The arrival of a number of other highly innovative and imaginative winemakers proved beyond any lingering doubt that the Ryman revolution was just that and not an isolated, lonely instance of inspired winemaking. The new trendsetters included Luc de Conti at the Domaine Tour des Gendres and a group of passionate enthusiasts in and around Saussignac, at least half of whom were called Cuisset. Daniel Hecquet began to make wines of a rare elegance north of the Dordogne at Puy-Servain, and a number of enterprising Britons - including Patricia Atkinson, (the half French) Richard Doughty and Charles Martin (originally brought to Bergerac by Nick Ryman) - each helped to encourage the momentum for change and improvement. Monbazillac meanwhile found its saviour in Bruno Balancini, whose exquisite Tirecul la Graviere (which contains an unusually high percentage of low-yielding, old vines Muscadelle) set Robert Parker's pulse racing. And although all petty rivalries did not evaporate, many of the go-ahead growers talk warmly about a genuine spirit of encouragement in the region. It has seldom been easy to make ends meet as a vigneron in Bergerac, but it is a region capable of producing wines of sufficient quality to justify a genuine pride.
Dry white wines are made from Sémillon, Sauvigon Blanc and Muscadelle. And the same grapes are used to make the moelleux (rich) and liquoureux (sweeter) wines. Reds are dominated by Merlot, with both Cabernet Franc and Cabernet Sauvignon, with, sometimes, a little Malbec. It is very much a the palette of Bordeaux, but the climate is a little different, less influenced by the sea, a shade warmer in summer and cooler in winter. Soils are almost all a variant of clay-limestone, although Pécharmant/Rosette has warmer, sandier patches - as well as copious quantities of flint. The flat alluvial soils of the Dordogne River Valley are also planted. Their wine is no great shakes and is never likely to be. Over the years the balance between styles has shifted with general fashion and more specific taste of the dominant market (which has changed over the years). Today the scales are tipped in the direction of red wine. Rosé is popular and sweet whites are again much appreciated. Dry whites, despite what might seem to be an obvious appeal have been hard to sell, especially in bulk.
---
Because the region is both large and diverse I can't claim to present a comprehensive survey of all that is good and worth seeking out. Here instead is a series of vignettes from recent visits and tastings, most of which took place in 2007, which I hope give something of the flavour and variety of the best of Bergerac today.
Saussignac
The dynamic growers of Saussignac include an unusually high proportion who have converted to an organic regime. They include Richard Doughty (Château Richard), Pierre Carle (Château le Chabrier), Thierry Daulhiac (Château le Peyral), Gérard Cuisset (Château Miaudoux) and, in the process of conversion, Guy Cuisset (Château Grinou).
Château Richard
Richard Doughty began first. A former deep-sea diver who turned to winemaking while recovering from a serious accident, he has been 'en bio' since 1991 - long enough for him to observe the effects of such a regime on his soil, plants and wine. He has also sought to reduce the level of sulphur in his wines, even to the point of daring to produce his Cuvée Osée since 1998 - a red with no sulphur at all. (A bottle of Cuvée Osée 1998 tasted in February 2008 was still firm and chunky.) I am always stuck by the crisp acidity of many of his wines, a characteristic product, he says, of organic viticulture. His relatively subdued dry whites and firm, 'structured' reds will not appeal to every taste, but Richard unapologetically makes wines that he enjoys. I like his clean, fresh Bergerac Sec 2006 and his perfumed, plummy 2007 Rouge. And it is very easy to be seduced by the quality of his Saussignac. They deservedly win a string of prizes, most recently one of just five gold medals at France's international organic wine fair, Millésime Bio held in January 2008 in Perpignan, for his Coup de Coeur 2004 - a huge wine, with loads of barley sugar, botrytis and clean acidity, overshadowed only by the magnificently elegant 2005.
Château le Chabrier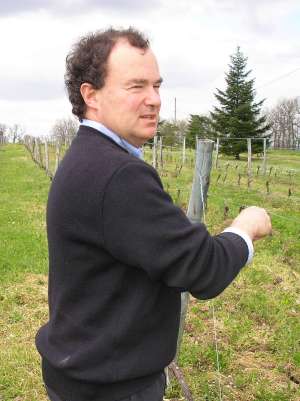 I find it more difficult to be objective about Pierre Carle and Château le Chabrier. I help to import his wines. Suffice to say that I think that his red wines are consistently amongst the best in the whole of Bergerac, and that his top cuvée Patrimoine (not yet exported) is brilliant. The 2001, a blend of roughly 50/50 Cabernet/Merlot, aged 3 years in oak, two thirds of which is new, has a fabulously complex, licorice and pepper aroma and a huge, long, powerful, chocolaty, licorice flavour. Yields at le Chabrier are tiny but Pierre is not tempted to over-extract his wines and eschews micro-oxygenation (a popular technique in many leading Bergerac wineries). "The art of barrel aging," says Pierre, "is to allow oxygen to work with the tannins without making vinegar." His Saussignac, with an average yield of 6 to 6 hl/ha, is one of the best. Pierre is a thoughtful man. "To make wine is easy," he reflects, "to make money is difficult." The 2007 wines at le Chabrier, an early stage, also showed great aromatic potential.
Château Miaudoux
Gérard Cuisset's wines grabbed my attention with the great vintage of 1990. His conversion to organic in 2005 involved a lot of hard work and even more heartache in 2007 as he battled to contain the most serious outbreak of mildew in the region, some say, since 1930. All his wines are good, from lovely, fragrant Bergerac Sec through to wonderfully elegant Saussignac (sold in the UK by Tanners). They are also very fairly priced. The 2006 Bergerac Sec has a ripe smell of citrus fruits, especially grapefruit, with a hint of green pepper. Crisp and fresh, but with plenty of fruit (much the same mix as is evident from the smell), it has a surprisingly long, mineral finish. I prefer it to his rich, oak aged dry white. His fresh, fruity rosé is excellent - made by a direct pressing of the grapes; and his reds are both complex and balanced, especially the 2004 Inspiration a blend dominated by 85% Merlot.
Château le Peyral
Thierry Daulhiac, Gérard Cuisset's brother in law, makes equally fine wine. His Saussignac tends to be a little lighter, but his dry whites are exceptional, and include an unusual but particularly fine cuvée made from 60% Sauvignon Gris and 40% Sémillon. The 2005 was big, rich and smoky, with ripe apples and spice. His basic Bergerac Sec is vibrantly fruity, fresh and crisp and a Tuttti Frutti 2006 Moelleux (60% Sauvignon Blanc and 40% Sémillon) is full of sweetly ripe grapefruit flavours. I have also enjoyed his red wines, which seem to hold well in bottle. Organic conversion has brought, he says, fresher cleaner fruit character to his wine.
Château Grinou
Guy Cuisset (the brother of Gérard) at Château Grinou is now working alongside his talented son Julien, who having trained in Germany returned home disturbed by what he'd seen of the effects of intensive agriculture and determined to implement a more 'environmentally friendly' regime at Grinou that now includes the use of some biodynamic preparations. At 35ha, Grinou is substantially larger than many of its neighbours. He considers that dry whites are the speciality of the winery. A high proportion of flint in the soil is ideal, he feels for Sauvignon Blanc.
His 2006 Bergerac Sec, dominated, however, by Sémillon, has a pure, fresh, lemon, lime and grapefruit smell, with a crisply elegant flavour. Three months on the fine lees helped to develop a mineral finish. A 2005 Bergerac Sec, almost all Sémillon, aged in 400 litre Cognac barrels to lessen the impact of raw oak flavours, is limey, creamy and complex with a good integration of fruit and oak.
Red wines account for around a third of the production at Grinou. In 2004 Julien began to use German techniques to avoid excessively harsh vegetal tannins in grapes that had mot reached maximum ripeness. This involved a cold maceration for six weeks under nitrogen to extract the aromas and anthocyanins from the skins but low levels of tannin. A 2006 Merlot/Cabernet blend showed the success of this approach - plummy and perfumed, with soft tannins and juicy acidity. The 2006 Reserve from 100% Merlot (half of which is exported to Canada) shows a good integration of fruit and oak and ripe, plummy fruit, with brambles, black cherries and fine silky tannins. It is made to be drunk young but to have the capacity of aging up to seven or eight years. The top red, Grand Vin is also 100% Merlot, aged in 100% new oak, 80% French and 20% American ("to bring hints of vanillin and whiskey to the wine"). The 2005 is almost black, with intense bramble, black cherry and spicy fruit with a little vanilla. Powerful, rich, soft and long, silky tannins combine with good freshness of fruit.
Good Saussignac is also made here. The 2003 with a lovely apricot and peach intensity of fruit and more botrytis than many that year was harvested in late November. Moelleux is also made from Sémillon with a little Muscadelle. The 2006 combines ripe grapefruit and spice.
2007 and its mildew also put Julien Cuisset on his mettle. The worst attack since at least 1977 here prompted him to try a range of alternative solutions to reduce the use of copper sulphate; Julien believes that the permitted dosage of 6kg per hectare of copper sulphate is inappropriate for an organic regime - and that French regulations must be changed to reduce it. He managed with a dose of 3kg/ha, supplemented by herbal sprays, a mixture of algae and phosphoric acid (which worked well - and for which he obtained special permission), lactoserum (a waste product from a cheese factory, which worked very well and also seemed to serve as a fertiliser) and even common salt in a 2% solution.
The early signs are that 2007 will be far from a disaster. I tasted a number of musts that were consistently aromatic, fruity and with fresh acidity.
Pécharmant
Pécharmant once enjoyed the reputation as the best red Bergerac. The hard work of vignerons in other parts of the region has shown that this claim can no longer be fully justified, but good Pêcharmant still has a special appeal.
Domaine du Grand Jaure
I have found that wines made by Georges Baudy at the Domaine du Grand Jaure had the capacity to age gracefully for almost two decades and could develop a considerable degree of finesse. His nephew Bertrand maintains the family tradition, with robust red wines based mostly on Merlot and more recently, delicious moelleux white, sold as Rosette, the smallest of Bergerac's appellations, which overlaps with the western Pécharmant (where Grand Jaure is). Pécharmant 2005 'Tradition' is deep, soft, rich and spicy with silky tannins; Pécharmant 2004 'Fûts de Chêne', aged 12 months in oak (many barrels are bought second-hand, used for just one harvest, from Pomerol and Saint Emilion) shows good, spicy complexity and a degree of real elegance. The 2005 is deeper, a little closed, but full of black fruit, especially black cherry in alcohol, with a touch of minerality. The top wine, Mémoire 2005, is a selection of the best parcels, then aged in 90% new oak. Rich and powerful, with black fruits and vanilla, it has real elegance and length. The 2006 Rosette with around 45 g/l residual sugar is simply delicious - all fresh, sweet grapefruit - and the 2007 promises to be very good indeed too.
Château Tiregand
One of the long-standing leaders of Pécharmant (and one of the largest estates in the whole of Bergerac) is Château Tiregand. The 2005, tasted the same day as the wines from Grand Jaure, was deep and powerful with black fruits and licorice in abundance, and bags of (ripe) tannin. It needs time to soften a little.
Château Terre Vieille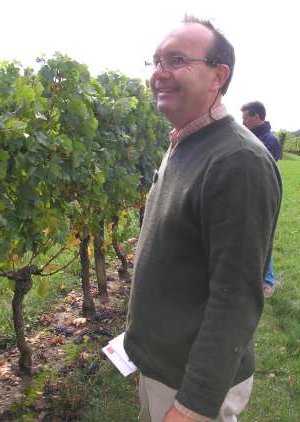 Gérôme Morand-Monteil of Château Terre Vieille at Saint-Sauveur de Bergerac, in the eastern part of Pécharmant, may look disconcertingly like Eric Morecambe, but viticulture and winemaking are a serious business to which he has given much thought. He is much attracted by organic practices but is not registered organic. "We do natural wine." He favours Merlot, which he feels is ideally suited to his clay soil with flints - an abundant quantity of worked examples, collected from the vineyard are displayed on site in a mini museum at his second site, Cros de la Sal, whose soil makes for distinctly mineral wine. Chevalier Saint-Sauveur (usually roughly a third each blend of Merlot, and the two Cabernets) is quite stalky, chunky and plummy in 2005 with a mineral finish. Terre Vieille 2004, 25% of which is aged in new oak and the rest in one-year-old barrels, is deep coloured, perfumed and marked by black fruit flavours; the 2003 is more roasted and chocolaty, the 2005, rich intense and grapy - excellently balanced - the best of the three. The top wine Ambrosie is so named, according to its maker, because it imparts immortality, and with an eye to sales, he quickly adds, "€30 isn't much for immortality." But it's a lot for a bottle of Pécharmant, even one as good as the 2003 with its intense spicy black fruits - slightly burnt brambles and silky texture. It's aged eighteen months in oak, but like Pierre Carle, Gérôme Morand-Monteil is not "looking for oakiness - barrels are just for working the wine."
Montravel
Since 2001 red wine can be sold as AOC Montravel. The regulations are strict. Vine density must be at least 4,000 plants per hectare and the agrément for the AOC is given only once all the wine has been bottled. At first some growers tried a bit too hard, but very good wine has always been possible here. For example, a bottle of Daniel Hecquet's Puy-Servain Terrement Vieilles Vignes 1998, tasted in February 2008, was elegant, long, spicy and complex - fully mature, but not in the least tired.
Château du Bloy
Bertrand Lepoittevin-Dubost, a former Le Havre lawyer turned winemaker, has more recently coaxed some exciting and sophisticated flavours in both white and red wine at his Château du Bloy. Like Julien Cuisset he uses some 400 litre casks and prefers one-year-old to new oak.
His 2003 red was so untypical that he decided to sell it as Vin de Table. Almost 15% alcohol, it manages to combine power and freshness. His white wines consistently show great complexity, with grapefruit fruit typically dominant. It is no surprise that he has managed to sell some to top restaurants, but as a newcomer to the region, he has found the ceaseless grind of marketing in order to build up a loyal clientele sometimes dispiriting and always very hard work. He deserves to succeed.
Château Moulin Caresse
Sylvie and Jean-François Deffarge-Danger make remarkable wine from 28 hectares of vines on an old family property, Château Moulin Caresse, at Couin near Saint-Antione-de-Breuilh, looking south over the Dordogne Valley in the far south west of the region. Around a third of their production is white and the rest red. Their soils are ferruginous. The property is in conversion to organic with the intention of going all the way to a biodynamic regime. They have been replanting at a density of 6,000 vines/ha for red Montravel but have decided to keep faith with Malbec - a speciality of the estate. Sylvie considers that "it is good if the yield is low. It brings colour and spicy notes, and even the aroma of violets in lighter wines." She thinks that Malbec suits the conditions at Moulin Caresse better than Cabernet Sauvignon.
Their Montravel Sec Premières Vendanges 2006 contains around 30% Sauvignon Gris, the rest in Sauvignon Blanc. Vinified in tank, it has the fresh clean aroma of green plums and gooseberry, and in the mouth a certain smoky, ripe apple richness - largely from the Sauvignon Gris. They do not rule out the possibility of making a pure Sauvignon Gris in the future. Their top dry white Cent Pour 100 2005 has well integrated oak and a long, perfumed, acacia flower and honey, flavour - the result of a blend dominated by up to 80% Muscadelle. The entry level red Bergerac 2006 Premières Vendanges is ripe and plummy, in a slightly stalky way - very Merlot; Magie d'Automne 2004 is firmer, backed by silky tannins, but also more perfumed, with the scent of raspberry. It has been aged in oak for one year and includes 20% Malbec and 20% Cabernet Franc. Red Montravel Cent Pour 100 2004 has real elegance. It is deep and intense, still perfumed, but dominated more by black fruit. It is made from the oldest vines and is aged for 16 to 18 months in half new, half one-year-old casks. Occasionally they carry out a microxygenation, but only, says Sylvie, "if the quality is good, otherwise we risk extracting too many green tannins." The moelleux Magie d'Automne 2005, AOC Haut-Montravel is a traditional Sémillon/Sauvignon Blanc/Muscadelle blend. It has 45 g/l residual sugar and is soft and fruity (white peach), with just a little oaky spice - it was vinified in used casks (another cuvée, more dominated by Sémillon is aged in tank).
Château Tour des Gendres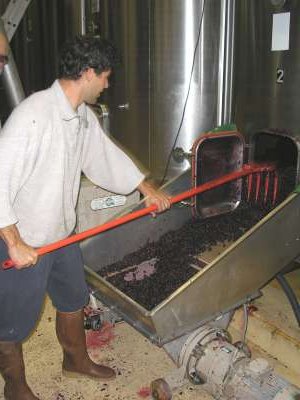 Many Bergerac growers themselves regard Luc de Conti as the leader and inspiration of the whole region. With his wife Martine he bought Château Tour des Gendres at Ribagnac in the south of the region in 1981. Their first idea was to open an equestrian centre, with wine just as a sideline. It was an old estate, but most of the vines had been grubbed up. (Vines do not dominate part of Bergerac. On the gently rolling hills they alternate with orchards, open pasture and larger tracts of arable land). They replanted the most promising sites, and with two neighbouring estates owned and by other members of the family (Luc's brother and cousin), and on which they depended greatly in the early years and still work as a unity, they now crop from 52 hectares - a large operation for Bergerac. The programme of planting only on the best sites and removing the poorer old vineyards continues. Organic methods have also now been adopted.
The entry-level wines (sold in the UK by the Wine Society) are sealed by plastic corks, but they are considering Stelvin screw caps. La Cuvée des Conti Bergerac Sec 2006 is a blend of 80% Sémillon with 20% Muscadelle. Tank fermented and aged on the fine lees it has a glorious aroma of acacia blossom with a hint of honey and then a dry, soft, complex flavour with a distinctly mineral finish. A new dry white Cont-ne-Périgoudine 2005, in its début vintage is made from 100% petit grain Muscadelle. This rare variety has been replanted in each of the three properties on north-facing slopes, where it thrives allowing warmer sites to be used for other varieties. It is fermented in lightly-toasted barrels for up to a year and is an extraordinary success and fine testament to Luc's skills as a winemaker. Honeyed and complex, it is noticeably peppery (apparently a characteristic of the variety). There is also an intriguing hint of banana. Martine says that no-one is sure how it will evolve, but would be delighted to receive tasting notes (by email!) from anyone who has bought it.
The red Bergerac Classique 2006 is made from 100% Merlot and is almost crunchily delicious. La Gloire de Mon Père 2005, 50% Merlot and 50% Cabernet Sauvignon, aged 14 months in barriques, is altogether deeper and more expressive with cassis and bramble fruit and big, chunky structure, and firm but silky tannins. (Luc was the pioneer of micro-oxygenation in the appelation.) Moulin des Dames, Côtes de Bergerac 2005, balances 50% Cabernet Sauvignon with 25% each of Merlot and Malbec (the similarities and subtle contrasts between Tour des Gendres and Moulin Caresses are particularly fascinating). It is a magnificent mouthful, with fruit well able to support 14 months in half new oak and the rest aged in one and two-year old barrels. Ripe, powerful and concentrated, it has many layers of rich, dark fruit with a hint of damson at the end (Malbec?).
---
The best growers show that although Bergerac shares a common tradition with Bordeaux, they enjoy, perhaps, a degree more freedom to experiment than their colleagues in the Gironde. The top wines of Bergerac are made with great attention to detail and with little expense spared. They fully express the uniqueness of their terroir. Saussignac and the best Monbazillac deserve to be respected as two of the greatest sweet wines of the world; and the new dry whites crafted by Luc de Conti and Jean-François Deffarge are equally good, especially those dominated by Muscadelle and Sauvignon Gris. They express unusual and welcome nuances of flavour and style. Their best reds, along, certainly, with those made by Pierre Carle are also deeply impressive. It remains hard to sell bulk wines made in the region and there are many properties that offer worthy but rather unexciting fare, but I have a feeling that the revolution set rolling by the Rymans still has a long way to run. Bergerac has much to offer.
---
Text & photographs © Helen Savage, 2008