Fronton's Black Grape
Négrette - the main grape of Fronton, the local wine of Toulouse - is low in acidity and not especially tannic. It's easy to grow and yields well - too well perhaps, and its wine has often lacked personality. For that reason, almost every grower stiffens it by adding Cabernet Sauvignon, Cabernet Franc, Syrah or Malbec (a little Gamay is also grown in Fronton). The rules say that Fronton wine, red or rosé, must include 50 to 70% Négrette, but a blend it must be. Such a requirement would seem like common sense, but for the fact that Négrette is a classic under-achiever and is capable of far finer things.
Frédéric Ribes insists that its yield must be strictly controlled in order to release a wonderful perfume that somehow mixes the scent of violets and licorice. Frédéric makes the wine at his family property, Domaine Le Roc. A tank sample of 100% Négrette (2006) was highly aromatic, perfumed and floral with soft, rich, silky fruit (at 13.8% abv). Even his 'Classic' blend, which features 60% Négrette with 25% Syrah and 15% Cabernet Sauvignon (I tasted the 2005 and 2004 vintages) has a wonderfully floral, spicy nose; quite raspberry in '04, richer, more licorice, in '05. The gloriously perfumed character of the fruit carries right through onto the palate, which is excellently balanced with just enough acidity and tannin.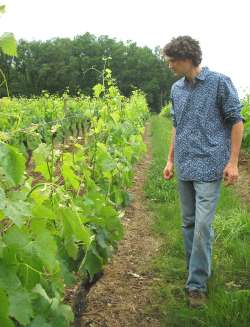 The skins of Négrette are unusual in that they are deeply coloured but thin - one very good reason why a good Fronton red is often so deep and purply, but not nearly as tannic as one might expect. David Vigouroux of Château Baudare says that a heavy crop of thin-skinned berries can be a problem in that they are prey to rot (Négrette is also susceptible to mildew and oidium) and a sudden downpour just before harvest can even cause them to explode. He agrees with Frédéric Ribes that yields must be restricted and says that growers who have been tempted to add too much fertiliser to the soil, have sometimes paid a heavy price for their greed. David uses as few chemicals as possible in the vineyard (he's followed a 'lutte raisonnée' regime for ten years), but Frédéric believes that organic viticulture is the best solution and is working with his blues-playing brother Jean-Luc to convert their 21 hectare vineyard.
The Ribes brothers have changed the trellising system from Guyot to a form of Cordon Royat, with eight spurs on each cordon, which they think suits Négrette better. They have also significantly increased the vine density from four to seven thousand plants per hectare. The density at Château Baudare is 5,000 plants/ha - trained on single Guyot. In order to restrict the yield David Vigouroux regularly carries out a green harvest. Grass is planted between the rows at both estates, but whilst David Vigouroux prefers to plough away from the roots, the Ribes brothers do not.
No AOC white wine is made in Fronton. Vigouroux produces a clean, grassy Sauvignon Blanc Vin de Pays. The 2006 was crisp and well-made. Frédéric Ribes makes just two thousand bottles of a remarkable white Vin de Table from Sémillon, Chardonnay and a little Viognier. Rosé, however, is proving increasingly popular and now accounts for almost 30% of the total production of the appellation. The best I have tasted is, perhaps, that from Le Roc. The 2006 is 70% Négrette, with 25% Syrah and 5% Cabernet Sauvignon and combines a creamy red fruits smell with a soft, slightly mineral red fruits taste. The Château Baudare Rosé 2006 (80% Négrette with 20% Syrah) is also very good: perfumed and spicy, with real complexity and length.
Other successes in 2006 include Bellevue la Forêt (the largest individual estate in Fronton with around 115 hectares of vines, and with winemaking of a consistently high standard) - perfumed, fruity and soft; Château Laurou - more meaty and mineral with the flavour of strawberry, and Château Plaisance, which has real spicy complexity. The deep colour of Négrette's thin skin makes the production of a pale rosé quite a technical challenge.
Roughly half of Fronton's 2,400 hectares are in the hands of co-operatives. 'Rosa, Rosa, Rosam' has been designed by the Cave de Fronton to appeal to the UK market. The 2006 is by no means a bad wine, with its clean, crisp raspberry and redcurrant fruit, but it faces stiff competition.
Le Roc seems to me to produce the most exuberantly violet and licorice-perfumed of Fronton reds, but there are a growing number of estates making fine wine. Château Laurou 2005 has an abundance of creamy black (cherry) fruit and a hint of chocolate, with good, fresh acidity. Bellevue la Forêt 2004 is quite a big wine, with spicy, licorice fruit and a silky texture. The perfume of violets is very evident in Château Montauriol 'Tradition' 2004, but the Cuvée 'Mons Aureolus' 2004 from the same estate is much richer and darker with licorice and spice. Château Plaisance 2004 (neither fined nor filtered) is deeply coloured, with great depth of soft, rich, red/black fruit perfumed by violets, and its top cuvee 'Tot Çò Que Cal' (just 2,000 bottles, and a yield restricted to 30 hl/ha) has an impressive intensity of black fruit supported by spicy oak.
Even though Négrette musts are relatively low in tannin, David Vigouroux uses micro-oxygenation (the very slow release of oxygen in a tank of newly-fermented wine over a period of weeks) to try to emphasise the fruit in his red wines. His 'Cuvée Tradition 2004' (50% Négrette, 30% Cabernet Franc and 20% Syrah) is soft, supple, perfumed and floral. 'Vieilles Vignes 2002' is still deep and young, and rich and aromatic with licorice notes, but the real star here is the excellent 'Haute Expression de Baudare'. The 2004 with 80% Négrette and 20% Malbec harvested from a sloping vineyard (most Fronton vineyards are on three flat former river terraces) at a yield of just 35 hl/ha and then aged twelve months in oak is hugely deeply coloured, rich and packed full of black fruit, backed by finely-grained tannins.
'Haute Expression' is the brainchild of a group of growers who are concerned to show Négrette at its finest. Wines sold as such are chosen by blind tasting and must have a minimum of 80% Négrette. The addition of tannic, structured, Cabernet and Syrah in significant proportions in so many blends may have helped to disguise the true nature and possibly also the appeal of Négrette. Wines like 'Haute Expression de Baudare' show how good Négrette can be if it is carefully handled and handed a starring role. Of course, blends with a higher percentage of more tannic material can be good, although in a quite different style, as is demonstrated by Château Baudare's 'Secret des Anges' - just 50% Négrette with Cabernet Sauvignon, Malbec and Syrah. The 2001 is rich, spicy and still quite firm and tannic. However, I much prefer the Négrette-rich 'Haute Expression'.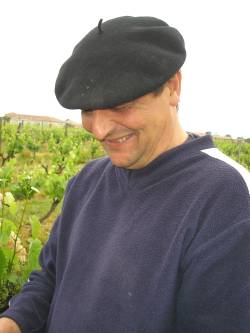 There is more than one route to fine wine in Fronton. Frédéric Ribes's wonderfully rich 'Domaine Le Roc Cuvée Don Quichotte' (Don Quixote), packed with ripe black fruit, is made in a thoroughly traditional, almost old-fashioned way. It is his way of tilting at the windmills of modern winemaking, and as such, he says, "not a cuvee for donkeys." It's my favourite bottle of red Fronton. 60% Négrette and 40% Syrah from the best parcels of vines, it is aged in old foudres for eighteen months without being fined or filtered. Frédéric is careful not to over-extract the fruit. The distinctive violet and licorice character of Négrette is complemented well by the acidity and white pepper of the Syrah. As at Baudare, I much prefer this to the 'Le Roc Cuvée Réservée, which has just 50% Négrette and 25% each of Syrah and Cabernet Sauvignon. This is certainly rich, structured and powerful, undoubtedly impressive in its own way, but far less obviously Frontonnais.
Fronton has been well served by recent vintages: 2004, 2005 and 2006 have all been highly successful. 2003 provided an altogether different and unwelcome challenge. "The fruit was burned like it had already been in oak," complained David Vigouroux. Neither he nor his father had ever before seen the like, but he is not alone in fearing that the relatively cool, excessively damp summer of 2007 notwithstanding, they will have to adapt their viticulture and winemaking to cope with torrid conditions like 2003 more often.
Their other challenge is simply to find a sustainable market in which to sell their wines. The local growers' organisation is working hard to sustain local sales with a slogan on the lines of "You're not from Toulouse if you don't drink Fronton", but the export market is harder going. David Vigouroux has found it easier to sell cheaper Vins de Pays to the UK rather than finer AOC Fronton wines, He sighs, "I brought the quality up, and tried to raise the prices, but sales went down." The Le Roc reds were very well received at the 2007 London International Wine and Spirit Fair, but it remains frustratingly hard to find any good Fronton wines in Britain except in a very few specialist shops. The best undoubtedly merit the detour.
---
Text & photographs © Helen Savage, 2007