La Mancha
The world's most widely planted grape variety is not Merlot or Chardonnay but... Airén. Almost all of it is grown in central Spain, in the dusty, extreme vineyards of Castilla La Mancha, where Don Quixote tilted at his windmills. With nearly around 540,000 hectares of vines Castilla La Mancha is the world's biggest vineyard - by a considerable margin; but because the density of planting in central Spain is very low, Airén makes less wine than several better-known grapes.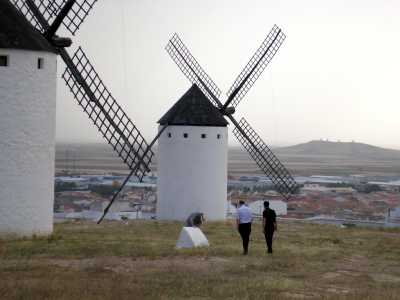 Another reason why we don't hear more about Airén is that it's not terribly good. On a baking hot day, typical of a La Mancha summer, a bottle of well-chilled Airén is surprisingly enjoyable with the fabulous local tapas, but only because there's usually not much else on offer. With fairly low acidity and little flavour apart from a hint of very ripe citrus fruits, its wine seldom offends, but never excites. It's no hidden gem waiting for an inspired winemaker to show us all what we've been missing.
But Castilla La Mancha is much more than Airén and the region is anxious to shed any lingering image as a producer of bulk wine of questionable worth. It wants - and deserves - to be taken seriously as a source of quality wine. Rising exports - a 15% increase of D.O. La Mancha in the first half of 2006 - suggest that it is succeeding even in today's hugely competitive market. (The UK is La Mancha's second most profitable destination after Germany.)
The countryside is littered with abandoned tinajas - huge, Ali-Baba-like earthenware fermenting and storage jars, an astonishing throw-back to ancient Roman wine-making - but this is not the land of old men leading donkeys weighed down with baskets of over-ripe grapes. It's now the territory of the men in white coats, like Antonin Gonzales at Felix Solis, who controls a technical team of twenty scientists in three hi-tech labs - the embodiment of a wine 'industry'.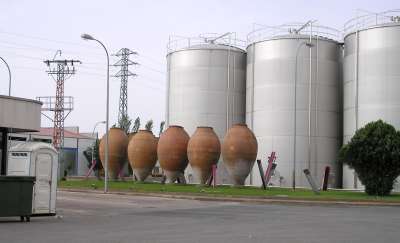 Felix Solis's vast operation in Valdepeñas matches the vastness of the landscape. It churns out 130,000 bottles per hour, maintains 50,000 barrels and processes the grapes from an area well over twice the size of New Zealand's total vineyard.
Another giant, Vinícola de Castella, was founded in 1976, in the heart of southern La Mancha at Manzanares, with the aim of making quality wine. It produces a mere 20 million bottles a year - a tenth of Felix Solis's output, but quite big enough for the winery to merit a massive 1960s power-station-style control desk. Wine from both wineries is found on most supermarket shelves and is utterly reliable. The Viña Albali range from Felix Solis deservedly picks up awards around the world. The influence of the barrels is very evident in the Viña Albali Crianza, Reserva and Gran Reserva, most successfully, I think, in the 2000 Reserva, which has considerable complexity and almost chocolatey fruit.
The main ingredient of these wines is Cencibel, better known as Tempranillo, the name under which it's increasingly sold. New oak, especially from French forests, is all the rage, especially among the smaller boutique wineries. I'm not too impressed. The vanillin character of American oak often seems better matched to the flavour spectrum of Tempranillo. For the sales pitch, "the new wines of the old world" to be true, it needn't mean that everything must change.
Unlike, perhaps, the clones Tinto Fino in Ribera del Duero or Tinta de Toro, the locals insist that Cencibel is identical to the Tempranillo of Rioja and Navarra. It tastes very different in La Mancha, where - at its best - it is deep, dark and chewy. The main reason for the difference is an extreme continental climate which regularly sees summer temperatures of over 45°C but freezing winters, just like 2005/6, when -15°C was widespread. Rainfall is very low (drip irrigation is de rigueur for most new plantings - even though the growers insist they don't use it as a matter of course), sunshine levels high and the growing season extended only by virtue of an average altitude of around 700 metres, which brings cool nights to help preserve acid levels in the wine. Nevertheless, the acidification of musts is quite widely practised. Some winemakers try to pretend it isn't, but others tell a different story. The soils of this upland plateau, a semi-desert with endless horizons, are almost all of baked red sandy clay over limestone and chalk.
Honest growers admit that global warming and the lack of rainfall is an increasing headache in La Mancha. Soaring alcohol levels also make the head spin.
The region's most interesting and innovative wines are often sold as (apparently simple) Vinos de la Tierra de Castilla, or come from the handful of pagos, single-estate wines that since 2000 have each had the possibility to be authorised as a kind of mini quality wine region in their own right. Carlos Falcó, Marqués de Griñon's Dominio de Valdepusa led the way, with help from Michel Rolland. Falcó also introduced Cabernet Sauvignon to the estate, which together with Merlot and more lately Syrah now seems to be being planted all over central Spain.
One rule for the pagos is that their wines must sell at a price in broad agreement with one another and well above the regional average. In some cases they are certainly well worth the premium. Pago del Vicario, a 130 hectare vineyard near Ciudad Real (in the south of La Mancha) is beautifully set out, with ten different grape varieties. All the right people are involved, including Australian vine-guru Richard Smart, who acts as a consultant. His aim, according to Susana López Mendiondo, the winemaker at Pago del Vicario is "quality with increased quantity, but with small bunches." Harvesting is by machine, at night, and everything seems set right to make great wine, but, after a vineyard tour that ended in the gloom of dusk, a comprehensive tasting over what had become a midnight feast was not, perhaps, the best way to appreciate the fruits of all this labour. It is, nonetheless, a vineyard to watch.
The enthusiasm for classic French varieties is almost universal in Castilla La Mancha (Petit Verdot is another new favourite). Not all the results are convincing. Some seem just too peppery, baked and short of freshness, and it can be hard to understand why more attention isn't given to varieties better suited to the harsh climate, though one or two broad-minded wineries, including Finca la Estacada, are experimenting with the likes the Léon grape Prieto Picudo and are prepared to try an old, hot-climate staple like Mazuelo (Carignan). All the wines of this well-run outfit at Tarancon in Cuenca province show well, even an extraordinary semi-sweet Chardonnay, with 45 g/l residual sugar and soft, clean melony fruit.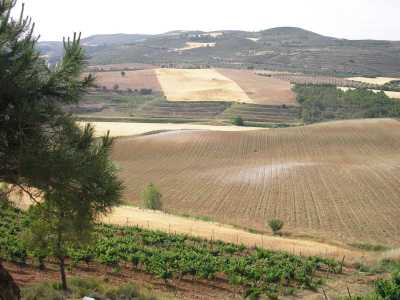 Syrah seems to be the most successful of the French varieties. At the remarkable winery of Calzadilla at Huete, also in Cuenca province, there was a welcome freshness and depth of fruit to a 2002 Syrah aged just 10 months in French oak. Nevertheless, I confess that I found the Tempranillo-dominated Caldazilla 2002 and Gran Caldazilla 2001, far more interesting - and they were both cheaper! Gran Caldazilla was perhaps the finest wine (out of several hundred) I tasted during a hectic visit of four days to the region in June. Deep and powerful, with great complexity, vibrant with both red and black fruit and with a lovely integration of oak and fruit, it fully justifies Francisco Uribes's passion, which led him to construct a state-of-the-art vineyard and winery in 1980, all from scratch, in the hills an hour or so south-east of Madrid. Despite its rather quaintly 'distressed' exterior (how to give the impression of a winery generations-old in just 25 years!), there are some seriously impressive things happening here. After many years designing wineries for other people, Uribes has clearly learned a thing or two - and it's good to see that the high-quality port grape Touriga Nacional is the latest variety to be given space in his vineyard.
A special bottling from Caldazilla is made for Fernando Alonso to share with his friends after yet another Grand Prix victory. Apparently he also needs four hundred more just for the Christmas dinner he throws for his team. Success is contagious.
---
Text & photographs © Helen Savage, 2006