On 21 November, as heavy rain gradually gave way to bright blue skies, we were met by Suduiraut's technical director, Pierre Montégut. Suduiraut, a Premier Cru of Sauternes in the 1855 classification is in the commune of Preignac just below the vineyards of Château Yquem. It was bought by AXA Millésimes in 1992.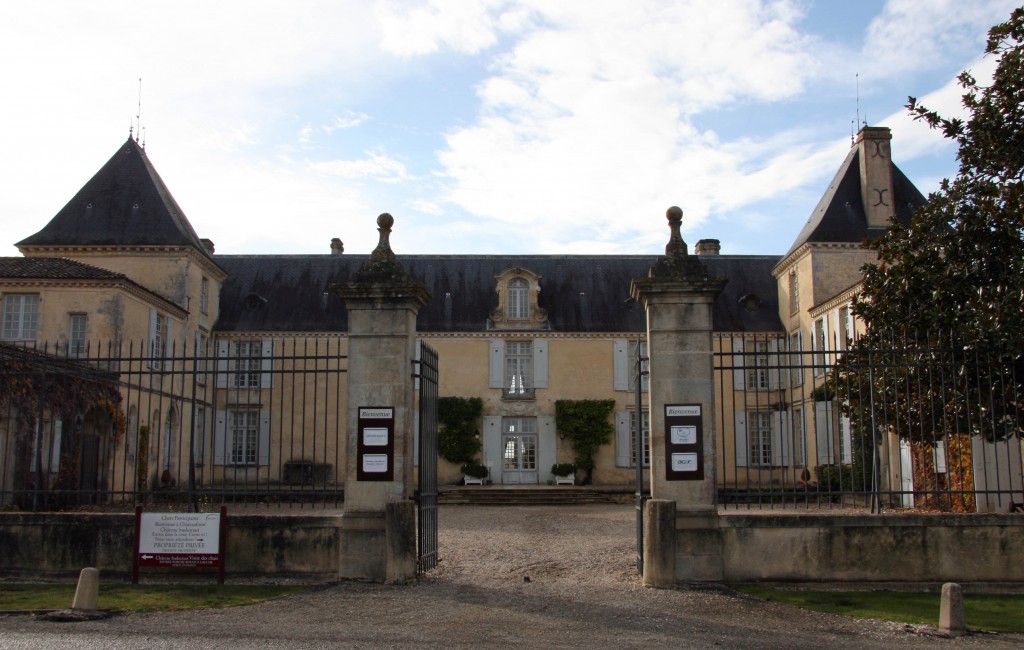 The Vineyard
The soil of Preignac is typically gravelly, with quite large pebbles. This, says Pierre, is a major factor in the style of wine from the commune, which is less rich and unctuous than in the more clay-rich soils of neighbouring Sauternes and with something of a hint of the green freshness of Barsac, where there is more limestone. Suduiraut's 92 hectares of vineyards are mostly on gravel around the château, but there are also two blocks on richer soil near Yquem. According to seasonal conditions, Suduiraut's style can switch. It was more Sauternes-like in 2003, 05 and 09, but fresher in 2002, 07 and 11.
The blend in the vineyard is 90% Sémillon and 10% Sauvignon. There is no Muscadelle, which is better on clay. The main rootstock is 420A which is well adapted to soils with a high level of active calcium and is therefore ideal for Barsac, as is Fercal. 3309 is good for dry sites and 101-13 for fresher soils. The vines are trained on wires, but with up to four spurs on each plant. Pierre aims for 6 to 8 bunches on each vine and for small berries, which tend to produce more pure aromas and better flavours. The minimum potential sugar allowed by the rules of the appellation is 15%. Pierre likes to have at least 20%.
Over the past fifty years sugar levels have risen significantly. In the 1960s, a good level of potential sugar was deemed to be around 19 or 20%. In 2005 it was over 30%. The residual sugar in the great 1967 vintage was 90g/l, in 2005, 09, 10 and 11 it was consistently around 140-160g/l. There is now often more focus in very years like 2005 and 09 on keeping fresh acidity in the wine than in achieving roundness and sweetness, but botrytis always remains an essential element in the style of Suduiraut.
The grapes, he observes, are also riper now at the onset of botrytis. The picking team of 120-150 souls typically make three to five passes (tries) in the vineyard. The greatest number of tries was eight in 1988, but so many passes makes for a very expensive harvest. There is no sorting done separately in the winery. Quality depends on the pickers.
The cellar is, however, equipped for cryo-extraction, which makes it possible to block and exclude the less ripe berries if ripening is uneven. Pierre says that this is most effective if the potential alcohol is between 16 and 20%, but cryo-extraction inevitably brings a loss of yield. To produce one hectolitre of juice normally requires between 150 and 180 kg of botrytised berries; with cryo-extraction this rises to 220kg. But Pierre believes that it is a better alternative to chaptalisation: "I don't change what nature gives, just block more."
Vineyard practice at Suduiraut is on the cusp of organic and 25 hectares are managed fully organically, which in a difficult year like 2012 meant a significant crop loss of around 50%. Bearing in mind studies that have suggested that copper can diminish grape aromas, careful checks have been made on the level of copper in both dry and sweet wines at Suduiraut. Greater levels have been found consistently on those harvested earlier, without botrytis, for dry wines.
2012 has been difficult because although there was a good level of botrytis at the start of October, the sugars were diluted by rain and harvest had to begin before the botrytised turned to grey rot. The yield for the sweet wine was just 8 hl/ha.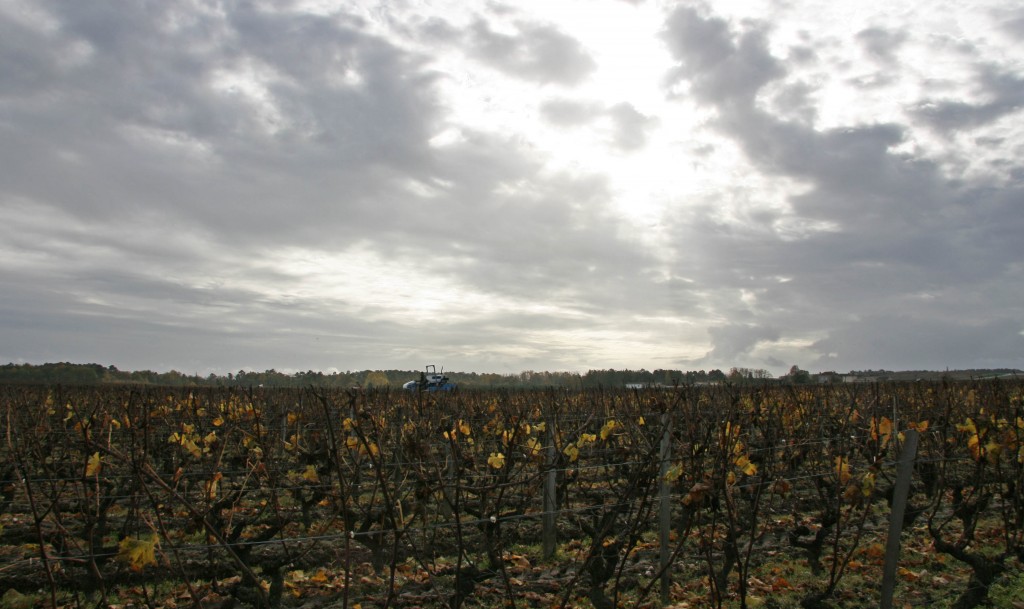 Winemaking
Once in the winery the whole punches are loaded directly into a pneumatic press. The first pressing at 2 bars pressure releases 80 to 88% of the juice. The pommace is then loaded into a basket press which operates up to 9 bars and releases juice which is very sweet, very perfumed, with higher pH and glycerol, but a little les finesse. A pH of 4 or more is common with botrytised grapes, but 3.8 is the ideal if the wine is to age well.
The wine is then fermented in small oak casks, 50 to 60% of which are new for Château Suduiraut and less for the other two Sauternes made here: Castelnau and Lions. Light to medium toasts are the preferred choice. Yeast nutrients are often added to help finish the fermentation quickly. Pierre feels that a ten to twenty day fermentation is essential to maintain the purity of the fruit and to restrict the development of volatile acids.  Fermentation is then fully stopped, first by cooling the juice to kill the yeasts and then by the addition of sulphur dioxide – the higher the level of botrytis, the higher the level of sulphur. The aim at bottling is to have 50mg/l of free SO2. The sweet wine is usually racked after the mutage of sulphur dioxide. (Mutage is this instance does NOT mean adding alcohol as at least one other blogger seems to think!) Because the estate's dry wine undergoes lees stirring in cask, it is not racked. After aging in cask for 18 to 24 months the Sauternes is fined with bentonite and sometimes also filtered before bottling. The other cuvées, Castelnau and Lions are aged for 12 to 15 months.
Commercial decisions
Pierre readily admits that making a profit in Sauternes and Barsac is difficult. The average yield for the first growths he estimates at 9 to 15 hl/ha and 15-25 hl/ha for the seconds.  To make money at Suduiraut he must achieve a yield of 15 hl/ha, but on four occasions over the last nine years this not been possible.
Production costs are high, including dry goods (bottle, cork, capsule and label), Pierre suggests the price of making Sauternes can vary from €9 to €26 depending on the vintage and the level of selection exercised in the vineyard and winery.
A major factor in achieving profitability is a successful en primeur campaign: 50% of Château Suduiraut is sold in this way and 25% of the other cuvees. Traditional sales on the French domestic market peak in the run up to Christmas, reinforced by the conviction that Sauternes is the perfect accompaniment to foie gras.
But Pierre is anxious to challenge some of the attitudes that pigeon hole Sauternes in an inappropriate way. "We need to show that Sauternes is not just sweet, but is wine with great complexity," he argues. "We're trying to combat ideas such as you can't drink other wines after Sauternes; that you won't get a headache if you drink it; that you don't have to cellar it for twenty years: ideas that mean, don't bother to open the bottle. It goes so well with cheese, especially blue cheese. Forget puddings with Sauternes it's often not a good idea." And as we discovered later that evening, with a selection of older vintages, it can be a fantastic partner for Sichuanese cuisine (my notes lack coherence – the evening at Bordeaux's Au Bonheur du Palais  was rather splendid. Pierre believes that one of the best ways to get over the fusty old attitudes that dog Sauternes is to persuade more restaurants to offer it by the glass. Perhaps then those drinkers in France who consume just one glass of Sauternes a year (the national average, Pierre says), might be tempted to drink a second. Mind you, as half of Suduiraut's sales are in France, that might not be such good news for the rest of us.
The Wines
Les Lions de Suduiraut 2010
The cuvée was first created in 2009 as a fresher, slightly lighter, more aperitif-style of Sauternes. The selection for both Lions and Castlenau is more often than not starts in the vineyard with specific parcels.
The wine is very fresh, with citrus and peach aroma and a clean, rich flavour (130g/l sugar) with a nice little twist of bitterness at the end.
Castelnau de Suduiraut 2010
Fatter and richer and more buttery, but less open and fragrant. A much richer, more exotic palate (135 g/l sugar)
Château Suduiraut 2010
Deeper colour, more obvious new oak and also botrytis with rich orange and apricot tones. Very powerful and complex with mouth-filling pineapple-like fruit and fine, balancing freshness (150 g/l sugar).
Les Lions de Suduiraut 2009
Much more evolved than the 10, and rather more peachy fruit. Quite a lot of botrytis and fatness, but just a little short.
Castelnau de Suduiraut 2009
Really quite closed, but ripe pineapple aromas emerging. A lot of botrytis, with quite a bitter finish.
Château Suduiraut 2009
A lovely wine: rich, powerful even a touch spirituous on the nose. A super-rich palate, bags of botrytis rounded off by class bitter marmalade notes
Château Suduiraut 1989
Fine old gold colour. The aromas is still wonderfully fresh – like ripe apricot with pain d'épices and real intensity. Drying just a little and very botrytised, but balanced by elegant acidity with a long honey, peach and apricot finish.