I visited Pichon-Longueville on 20 November as part of a generous study scholarship awarded to Master of Wine students by AXA Millésimes. We toured the vineyards and winery with technical director, Jean-René Matignon who also conducted a vertical tasting, blind, of thirteen vintages from 1998 to 2010 before treating us to older vintages over dinner.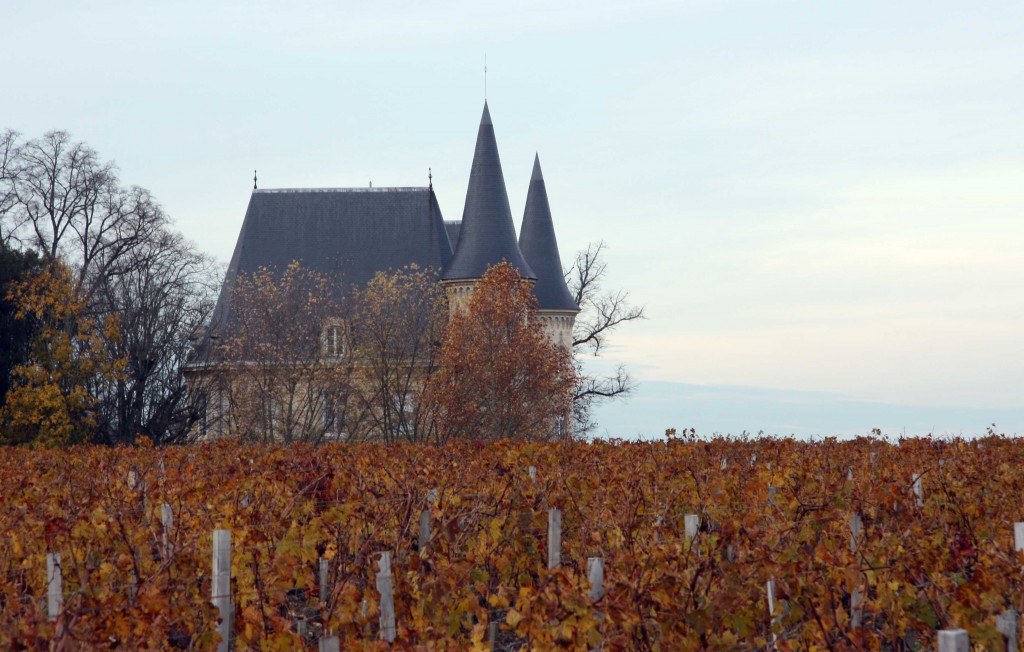 A bit of background
Château Pichon-Longueville was awarded second growth status in the 1855 classification of the Médoc. It is superbly situated in Pauillac overlooking Saint Julien to the south, and neighbours Châteaux Pichon-Lalande (from which it split in 1840) and Latour.
It has enjoyed a somewhat chequered history during the last hundred years. From 1935 until his death in 1962 Jean Bouteiller made many great wines. Jean-René talks with relish about any opportunity to re-cork them and considers the 1937 as perhaps the best old wine in the château's (rather small) 'library' collection.
By the early 1980s, although some good wines were certainly made, the Bouteiller family had long since failed to maintain the high standards of the 1940s and 50s, to the point at which from 1982 to 1987 the grapes were harvested by machine: not a practice consonant with the level of rigorous selection needed to made great claret.
In 1987 the property was sold to AXA Millésimes who have since invested significantly in the vineyard and cellars as well as lovingly restoring the fine château itself, built in 1851.
The popular name for the property, Pichon-Baron, still persists.
In the vineyard
The vineyard is 75 hectares large and the average age of the vines is between forty and fifty years. The main balance of the vineyard is divided between Cabernet Sauvignon (65%) and Merlot (32%) planted on the distinctively Médocaine Guyot Poussard system with two short replacement canes and a two-bud spur below to supply the canes for the following year. This is well-adapted to Cabernet Sauvignon and helps restrict disease, especially eutypa dieback. There is also a small amount of both Petit Verdot and Cabernet Franc. Cabernet Franc struggles with water stress here. Jean-René points out that it really needs soils with higher clay content, but some of the clonal stock in Bordeaux is poor and has been improved in recent years by clones from the Loire Valley. Petit Verdot is also sensitive to water stress.
Gravels here are up to 2m deep. The younger gravels nearer the river are considered to be the better soils because they have more clay content, those further inland are finer, poorer and sandier. In times past it was traditional to add clay: to 'marner' the soil and improve it.
Around 2% of the vineyard is replanted annually. In the oldest blocks, about 4% of the vines die anyway each year. Research has been carried out to identify clones resistant to fan leaf virus. The preferred rootstock is 101-14, with 3309 used where there is most risk of water stress and 420A on the limestone- rich soils planted with Merlot at Château Pibran in the northern sector of the appellation adjacent to Pontet-Canet. Riparia was tried in the past but it failed to ripen the fruit adequately.
The most significant new disease risk is provided by Flavesence Dorée, which spreads very quickly and is difficult to control. The effect is green wood and loss of the crop. The vectors, a form of leaf-hopper, can be eliminated by spraying with organophosphates or organic pyrethroids, but Jean-René is worried that the latter present a health risk for his vineyard workers. It is also now necessary when old vines are grubbed up to treat the soil with insecticides and then to wait three to five years before replanting, a costly delay. Cabernet Sauvignon can suffer from magnesium deficiency, which leads to dry, brittle stems. Magnesium may then be added every two or three years in spring along with compost at a rate of 100kg per hectare.
Jean-René has practised integrate pest management since 2000. He is experimenting with organic viticulture on 5 hectares at Château Pibran, but is reluctant to extend the experiment to Pichon-Baron. One major objection is the high level of copper in the soil, which also limits the life of bacteria in the soil. Organic compost is, however, used generously: around ten to fifteen tonnes per hectare, per year, at a cost of €70 per tonne. It improves the texture of the soil and enables it to retain water better. Where crops are planted between the rows (rye grass and vetch) it can help to limit the migration of chemicals and help to effect their degeneration more quickly.
Over the years labour costs have risen in the vineyard as more labour intensive strategies have been adopted such as leaf plucking on first one and then, sometimes, the other side of each row. Jean-René estimates that twenty years ago one vineyard worker could look after 2.5 hectares. This has now reduced to just 1.8 hectares.
In the winery
A fine new winery was built between 1990 and 1992, designed by the Panamanian-born architect Patrick Dillon, around 50% of which is underground.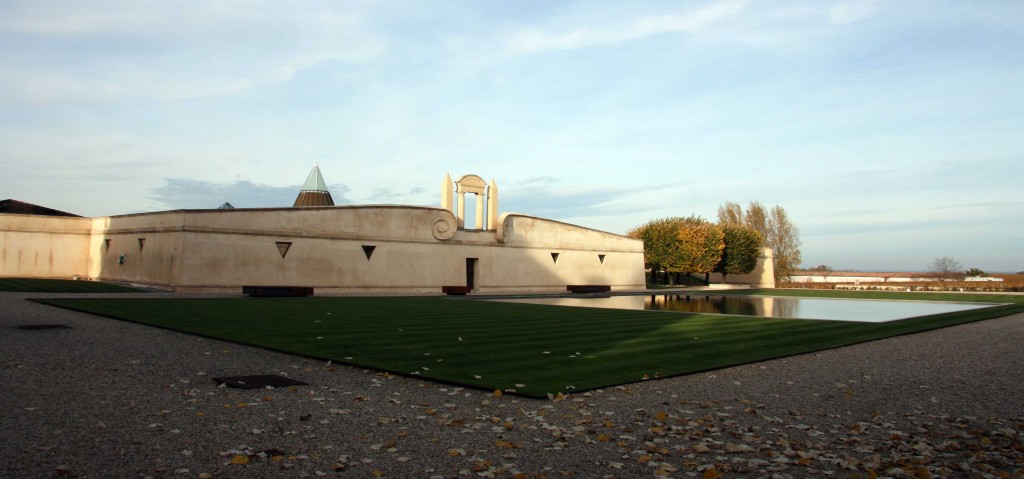 It is equipped with a new optical sorting machine (which cost €120,000). It has a capacity of 8 tonnes per hour and has made a huge difference to the quality of the wine: "Anthocyanins," says Jean-René, "are the key to understanding the quality of tannin." Prior to processing in the optical sorter whole bunches are sorted by hand and then the berries de-stemmed. 10 kg of berries at the desired colour profile are 'shown' to the machine to prime it. The high-quality of the optical sorter is such that Jean-René does not feel it necessary to use a top of the range, expensive de-stemmer, which he argues would also be more difficult to clean.
The cellar also boasts a reverse-osmosis machine, but this may only be used on must and not on finished wine. It can be helpful if the grapes arrive wet, or as for example in 2011, when the percentage of sugar in the Cabernet Sauvignon was a little low.
After fermentation, pressing is done mostly in pneumatic presses on a gentle, 'crémant' setting. A new basket press is also available, but Jean-René has not yet noticed that it offers any significant advantage.
Selected, cultivated yeasts are used: RB2 for Merlot to emphasise its freshness and fruit, Actiflor 33 for Cabernet Sauvignon, especially to reduce the level of volatile acidity. F15 is also used for both Merlot and Cabernet, though not as often as it was in the past.
Délestage (rack and return) is used daily for the first three days of fermentation, then regular, daily pumping over for the next twenty five days. Jean-René is also experimenting with a pre-fermentation cold maceration at 5C.
The grand vin is aged in 80% new oak and the second wine, Les Tourelles, in 30% new oak.
Regular racking is a defence against Brettanomyces infection, which develops on the lees sediment. Jean-René commissions regular bi-monthly microbiological tests to ensure that it kept under control. Racking otherwise takes place every three to four months. A custom-built machine delivers alternatively a mixture of steam and a high pressure water jet cleaning to each barrel. Fining with albumen also helps to reduce Brett. Another defence, says, Jean-René, is to seed barrels with lactic bacteria to speed up the malo-lactic fermentation: the wine is especially at risk from Brett when it is not protected by S02 before the malo takes place. The wine is filtered before bottling. Jean-René argues, "If there was no Brett there'd be no reason to filter – but we need to!"
Pichon Longueville 1998 to 2010 and a few older wines.
It was an extraordinarily helpful exercise to be invited to taste the wines 'blind'. It enabled us to evaluate the quality of each vintage without the baggage of expectations. The order in which they were served was 1998, 2000, 2002, 2004, 2006, 2008, 2010, 1999, 2001, 2003, 2005 2007 and 2009, but for ease as well as convention, my notes here are in reverse chronological order, along with notes on the 1990, 1988, 1986 and 1959 vintages, drunk later over dinner at the château.
2010     Very deep. Exciting, powerful, rich, sweet and spicy nose, with fantastic fruit in the mouth and a very silky texture – long, rich and ripe, with melting tannins. A remarkable wine.
2009     Also very deep. Sweetly ripe nose. In the mouth big and sweet, showing quite a lot of oak at the moment and quite high acid. Lots of structure.
2008     Deep and young. Quite a lot of new oak, but perfumed – fragrant and cedary. Sweet, perfumed fruit in the mouth, with fresh acidity and firm tannins. Good length. Elegant.
2007     Deep and quite young, but first signs of aging. Fabulous, opulent nose, rich and ripe – chocolate and cassis. Big and  balanced with lots of power and length. A big surprise, but then I Iooked back at my note from the IMW claret tasting (see below 12 November 2011). I liked it then too.
2006     Still deep and young. A big wine, but a bit closed. Firm black fruit, firm tannins and quite juicy acid. A bit short and angular.
2005     Hard to assess: the first bottle seemed raw, un-knit and tannic, with high acid; a second was very much better, with a rich, ripe, creamy nose, then a dense, rich palate, still with a lot of perfumed oak and considerable elegance.
2004     Some aging apparent. Lovely perfume – complex, gentle and elegant. Sweet, balanced plate, elegant and long but already maturing.
[a lot of green harvesting was necessary and ripeness came quickly]
2003     Quite deep, but also garnet-hued. A very appealing aroma of sweet perfumed fruit, but the palate is much chunkier than the nose suggests: sweet, chocolaty fruit, big, firm tannins and rather short.
2002     Deepish, but garnet edge. Big, spicy, chocolate nose. Big in the mouth too, with a lot of dry extract and a fine tannic structure. A little short.
[A lot of millerandage. Hard to de-stem]
2001     Still quite deep and not a lot of aging. Rich, ripe chocolaty nose with spice. Soft, sweet, full, still chewy and very long.
2000     Deep and young-looking, right to the rim. Sweet, pure fruit and quite spicy and complex. Fully mature, but sweetly ripe cassis fruit, with ripe tannins and good acidity.
1999     Aging, a marked garnet rim. Very evolved and mature, with sweet/balsamic notes and quite high volatile acidity. Sweet fruit in the mouth, but a hard middle and tough tannins. Short.
1998     Aging – a garnet rim. Open, spicy, rather Bretty nose. Sweet, but rather hard tannins and a bit short.
1990     Very good deep colour; slightly stalky and savoury with a green edge, but lovely length.
1988     Still big rich and complex, with wonderful fruit: cranberry and cassis. Very ripe, long and fine.
1986     Still deep and youthful, with lively, spicy complex fruit. Balanced, savoury and mineral on the finish.
1959     Clearly older. Quite a rich, balsamic nose, but beautifully scented. Still very rich in the mouth and surprisingly fresh, though with rather lifted acidity. Truffles. Mature – but what a treat!
[Jean-René's birth year]