The second part of the Institute of Masters of Wine 2012 Champagne Trinity Scholarship  enabled me to return to Champagne to the three family-owned houses of Pol Roger, Louis Roederer and Bollinger to taste the vins clairs – still wines from the 2012 harvest. I failed to dodged unseasonable snowstorms, gained an unwelcome, intimate knowledge of CDG's terminal 2E during 48 hours of cancelled flights, and once again, experienced fabulous hospitality in Champagne.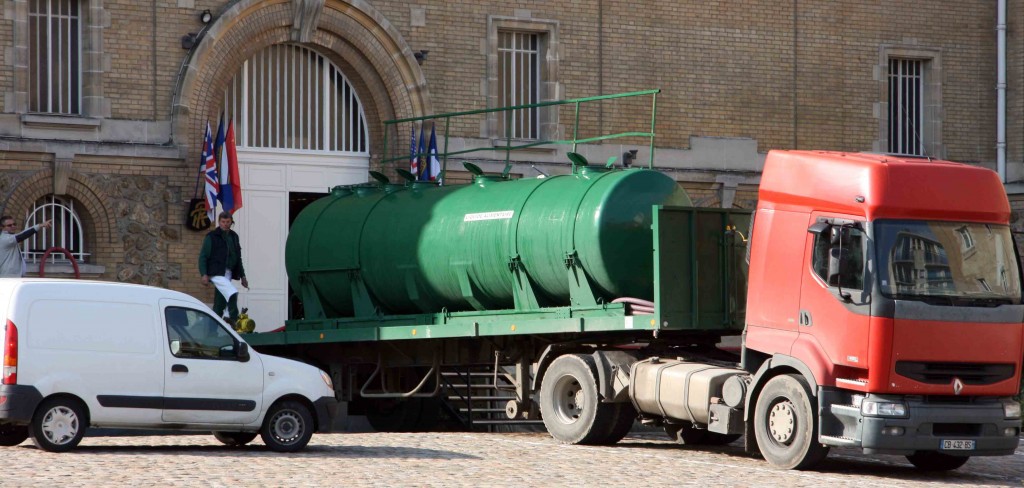 After an orientation session with Violaine de Caffarelli of the CIVC (the main trade body of the region, which represents both the growers and the powerful Champagne houses), whose notes form the background to my summary of the growing season, my first tasting of vins clairs was at Bollinger. At Louis Roederer Grégoire Fauconnet treated me to a quite remarkable selection of wines from parcels destined for Cristal. I then spent a fascinating morning at Pol Roger in the genial company of Hubert de Billy.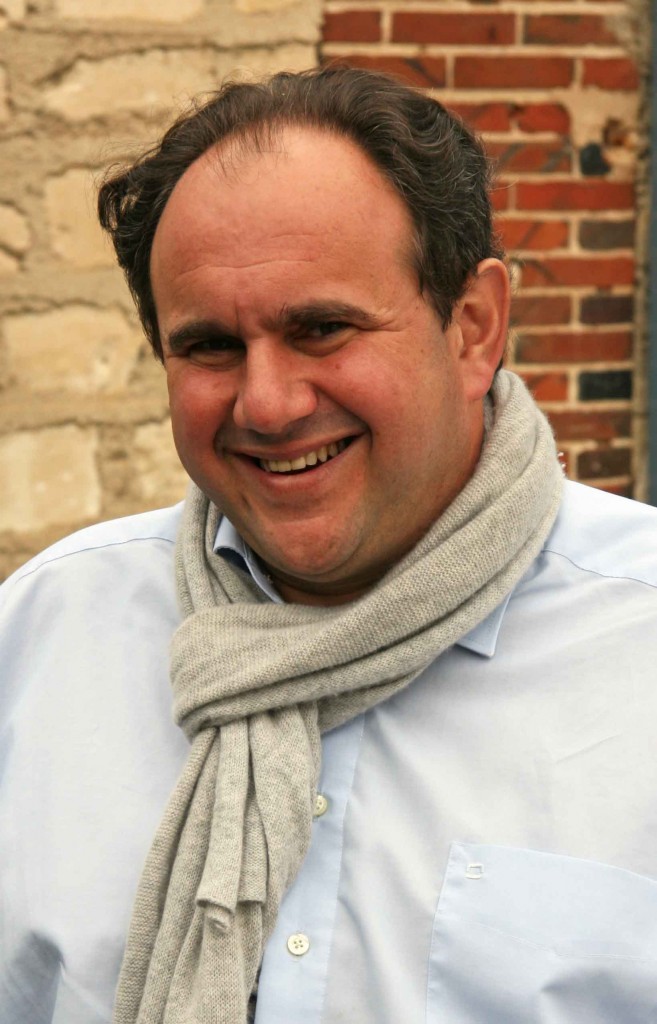 Hubert de Billy of Pol Roger
The opportunity to taste the vins clairs from what seems likely to be regarded as a truly great vintage was a special privilege, but even more than this, I learned a great deal about the effects of different viticultural regimes and cellar practices on the quality and style of the wines. I shall focus on this later, but first, a little bit of background.
An unlikely success story
2012 was a nightmare of a growing season. The temperature from March to September was average. Rainfall was a little high – 67mm above average, but little else conformed to recent norms, except the sheer unpredictability of the weather from one month to the next.  After bud-break, growers faced a damaging series of frosts.  There were five damaging frosts in late April and early May, the last on 10 May. The temperature fell to -7.7C.131 communes were affected, 13,500 ha. of vines suffered, and the crop from 2,900 ha. was wiped out.  The Aube was hit worst. Further damage was caused by a succession of violent early summer storms. Flowering began on 16 June and was poor, leading to both millerandage and coulure.
A long period of changeable warm, wet weather meant that mildew was rife and oïdium followed. Organic and biodynamic growers found that as soon as had they sprayed their vines with copper it was immediately washed off again. Roederer's team, for example, had to spray their Marne Valley vineyards with copper sixteen times. But then July turned more settled and the very warm weather continued through August, with temperatures that peaked over 34C. The grapes ripened but shrivelled. The small crop that remained was healthy and even benefitted from mid September rains at harvest time, which swelled the grapes by up to 15%. Although phenolic ripeness of some Chardonnays sometimes lagged behind the development of flavours in the grapes, the quality of the crop was greeted by immediate and almost universal acclaim.
Harvest for Pinot Noir began on 14 September, Meunier on 16 September and Chardonnay two days later. The average yield was, of course, down at 9,200 kg/ha, a loss of around 40%. The CIVC estimates that 10% of losses was down to hail or frost, 10% down to disease, especially mildew and oïdium and 20% was down to flowering problems.
Prices rose again. Depending on the courtier, a kilo of grapes fetched between €5.2 and €6.1.
The raw figures suggest that growers' initial optimism was founded on much more than a feeling of sheer relief at having any kind of healthy crop to harvest. The average potential alcohol for all three main varieties was 10.5% abv. Few winemakers were tempted or needed to chaptalise their musts. Acid levels were very respectable: Pinot Noir was 7.9g/l (H2SO4, according to CIVC's figures – this way of expressing total or titratable acidity gives lower figure than the more usual UK measure of g/l measured as tartaric acid), Meunier, unusually, was a little higher at 8.2 g/l and Chardonnay averaged 7.7 g/l.
The truth in the glass – the vins clairs
A Pinot Year
It was immediately clear from the very first batch of vins clairs that I tasted at the CIVC from grapes grown at their Plumecoq research vineyard that Pinot Noir is the glory of 2012.  The Chardonnays can be impressive too, but some seem a little clumsy in comparison with the racy elegance, complex aromas and magnificent balance of the best Pinot Noirs. From a snatched conversation with the influential Champagne expert Michael Edwards during the tasting of vins clairs at Bollinger I learned that some growers in the Côte de Blancs are disappointed by the relative lack of finesse of their Chardonnay. In contrast, the few examples of Meunier I tasted were very good indeed, and benefitted from the slightly raised acidity in comparison with Pinot Noir.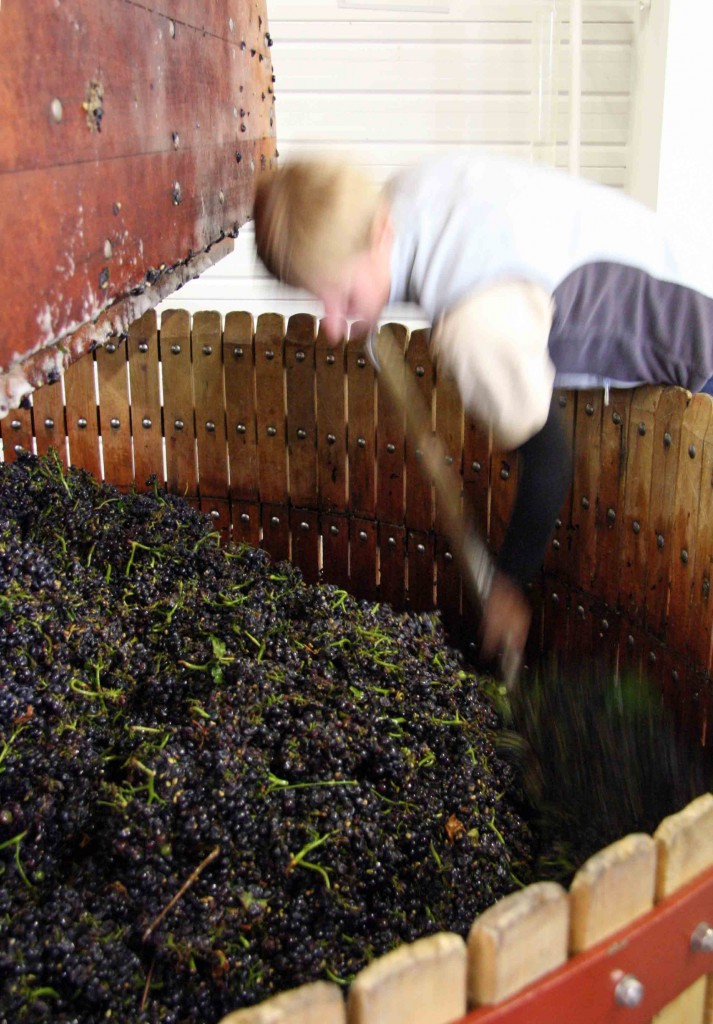 The effect of organic and biodynamic viticulture
Louis Roederer farm around 22% of their own vineyards either organically or biodynamically. I had the rare opportunity to compare a number of wines from the same cru, from fruit grown using conventional viticulture and from that grown biodynamically. The results were sometimes startling. For example, biodynamic Pinot Noir from Avize revealed an extra dimension of complexity with acids that were both stronger, but also riper and more creamy. This, said Grégoire Fauconnet, is a typical profile of biodynamically-grown grapes from Roederer estates. In general, the biodynamic wines simply expressed more personality, specifically with better defined fruit characters and more 'tension'.
The soil of the Cristal parcels is predominantly calcareous, and the vines, exclusively Pinot Noir and Chardonnay, are at least twenty five years old. They form a wide selection from the best sites in Roederer's own portfolio. Grégoire told me that experiments with biodynamic viticulture on less favoured sites does not reveal the same level of improvement. The evidence from Roederer estates is that biodynamic viticulture leads to better balanced, healthier plants, which are better able to produce fruit that optimises the potential and typicity of each site. If this is indeed so, it follows that the most striking results will always be achieved on the best sites, simply because they really do have the potential to produce the best fruit.
The effect of aging in cask versus tank
The most immediate differences between wines vinified and age in tank and those in casks was evident at Bollinger. Bollinger have a policy of using a mix of small barrels, bought second-hand from Burgundy producers, most recently from Chanson Père et Fils. The collection includes some casks made in Champagne over a century ago. None are younger than fifth fill. The cask samples were uniformly less fruity and more oxidative. Curiously, despite the age of the barrels, some showed marked toasty notes. More significantly, perhaps, the oxidative style of maturation seemed to beef up the structure of the wines with more evident acidity, differences shown clearly, for example, in two wines from Aÿ. The tank wine showed more vivid red fruit aromas, the cask wine, though less fruity, was richer and more powerful. But I soon learned that the reason for of some of these differences was not entirely be due to the method of maturation. The penny dropped when I noticed that a cask sample from Verzenay was deeper coloured than tank sample. This is the inverse to what I might normally have expected because the more intense lees contact in a barrel should absorb colour. The explanation is that Bollinger tend to put their better quality, more powerful wines in barrel and the lighter in tank.
At Roederer there are no small barrels. The fruit destined for Vintage wines and for Cristal is also vinified in a separate winery for that used for Brut Premier NV. This enables the Roederer team to adopt a different, less interventionist strategy, with, for example, no attempt to impose a malolactic fermentation on the wine. Their aim is to work with ripe fruit with naturally lower levels of malic acidity. Some wine from the Cristal plots goes into stainless steel, other batches into 100 hl casks. Not surprisingly, the wine aged in the large casks, does not readily display the oxidative style obtained by Bollinger's small barrels, indeed one of the more reductive samples I tasted was from a wine from Vertus (Montferré), aged in casks, which also had a lemony, leesy  richness. A naturally rich vintage like 2012 receives less lees stirring than that from a lighter year and may be therefore more open to reduction, not least because with little or no malolactic fermentation, sulphiting must be carried out earlier. That said, reductive notes were evident in very few of the vins clairs I tasted. A more significant difference between tank and cask matured wines was that, some of those from tanks tended to display more crunchy, malic acidity, which was masked by the slightly leesy character of the wine aged in oak.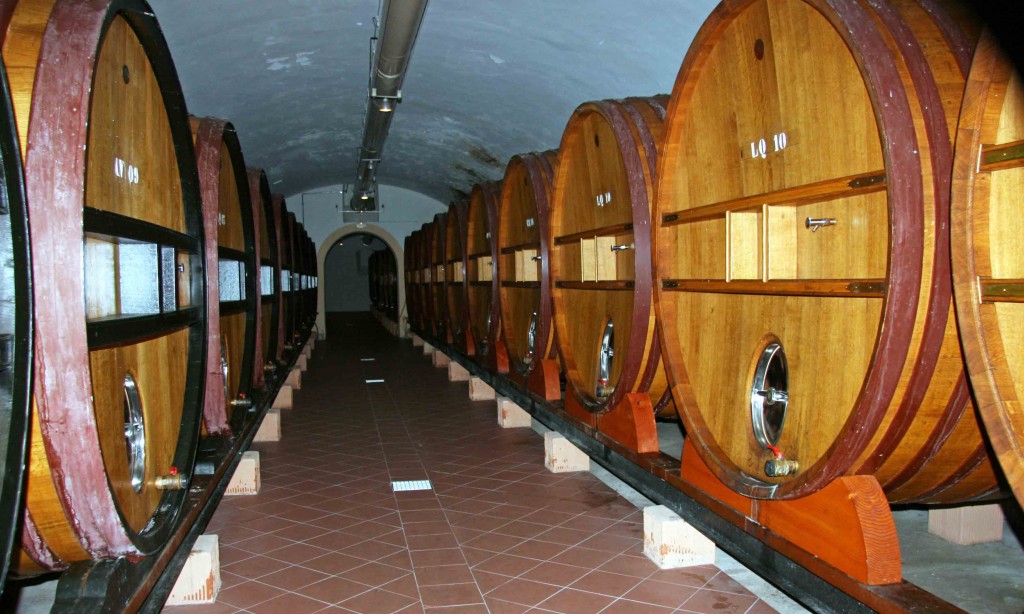 Casks of reserve wine at Louis Roederer
The creation of a house-style
Pol Roger's vins clairs have a distinct character. They combine a tight structure with a refined elegance. This is emphasised by a winemaking regime that begins with extended cold, or rather cool settling at around 17 to 18C, for up to fifteen days. The aim is to work with very clean juice and, says, Hubert de Billy, to produce wines with freshness and finesse. He cites as evidence the 'rare finesse' of the wines they made in the challenging circumstances of the 2003 heat-wave. The wines undergo a full malolactic conversion, which also enables Pol Roger to sulphite as little as possible. Indeed, "we are the house that sulphites least," claims Hubert de Billy. In the past they have not, however, been afraid of chaptalising their musts (adding sugar at the time of fermentation to raise the alcohol strength). All the wines are vinified and aged in stainless steel.
Pol Roger's house style seems to have served them well in producing 2012 Chardonnays of unusual precision and, indeed, finesse. One wine from le Mesnil was exceptionally fine with its piercing, ripe acidity. But the three examples of Meunier I tasted were also unusually refined, with a splendid wine from the unsung slopes of Baulnes sur Brie that married the typical spicy red fruits of the variety with deliciously fresh, but ripe acidity.
Hubert described in detail how the final blends at Pol Roger are agreed, all with the aim of maintaining that distinct house style, across the whole range that appeals to his customers. The same process is clearly evident at both Louis Roederer and Bollinger too.
I feel privileged to have had the opportunity to taste some many great wines from a truly remarkable vintage in Champagne and I look forward to watching the evolution of those wines that are declared as 'vintage'. At Pol Roger this is likely to be as much as 30 to 35% of the total production. But it is the way in which viticulture and winemaking are both used to craft something distinctive from each site, creating a typicity that is not just a matter of terroir but of house style, that has struck me most. And the skill of the winemakers and others in manipulating the rich palate of flavours available to create consistent blends is truly remarkable.
A Footnote
At Louis Roederer, Grégoire Fauconnet also treated me to a fascinating tasting of cask samples of their reserve wines, blended from the Cristal parcels: from 2011 to 2000. The chance to taste these remarkable wines gave me a privileged insight into the character of the most successful vintages of the last twelve years.
The wines are dominated by Pinot Noir and have been kept in large oak foudres.
2011   Rich, open nose. Lot of spicy structure – long.
2010   Shows much more oaky character, but very rich, powerful and spicy. Mineral finish.
2009   Much less oaky. Fresh nose, with hints of grapefruit, other citrus fruits and honey. Some buttery notes. Mineral finish.
2008   Vanilla and spice, but above all wonderful freshness and bags of potential. Superb balance.
2006   Fruit and oak well integrated. Rich and quite open.
2005  Again very rich and fine with well-integrated flavours, but superb supple acidity to balance the richness.
2004   The oak shows again. Very ripe, almost peachy, rich fruit leading to a fine, dry, mineral finish.
2002   Immensely complex, with an aroma of hazelnuts. Lively balance. Wonderful, lingering finish.
2000  Brioche notes for the first time. Seems young, with fresh, focused acidity.